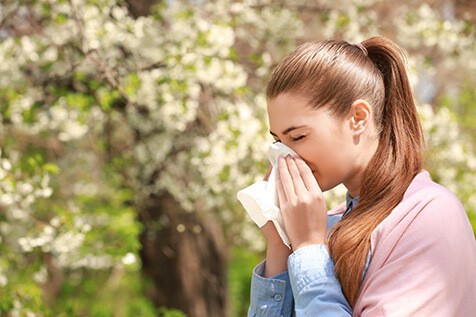 At Chicago ENT, our allergists are experts in diagnosing and managing allergies, asthma, and immunodeficiencies. We provide comprehensive care to both children and adults suffering from all forms of allergies and breathing issues.
When Should You Seek Allergy Treatment?
Allergies are a common issue that can affect both adults and children. But it can be hard to know when you should seek treatment for allergies.
Mild allergies, like seasonal allergies to pollen, may not need a professional diagnosis. Many mild cases can be treated with over-the-counter medication.
But allergy symptoms can be severe and may develop later in life. If you experience an allergic reaction to a new allergen, be it from food, medication, or something environmental, you should see a doctor.
If you have a child, you may want to have them undergo allergy testing early in life if they experience even mild allergic symptoms. Symptoms in children and adults tend to be the same.
Main Allergy Symptoms
Sinus irritation
Eye irritation
Itchiness in the throat and mouth from food
Hives on the skin when encountering the allergen
Swelling
Coughing
Wheezing
Getting sick easily
Getting sick regularly may be a sign of immunodeficiency that could be linked to allergies.
Some parents prefer to have their children tested for allergies even if they don't experience any allergic symptoms. Choosing to take this route may not be necessary for otherwise healthy children, but it can give some parents peace of mind.
Talk to your pediatrician about allergy testing if you're unsure your child could benefit from allergy testing.
What Allergy Conditions Does Chicago ENT Treat?
At Chicago ENT, we treat the following allergy conditions:
Allergic rhinitis (seasonal and indoor allergies)
Food allergies/Eosinophilic Esophagitis
Skin allergies (Contact Dermatitis)
Eczema
Drug allergies
Swelling (Angioedema)
Hives (Urticaria)
Anaphylaxis
Cough/Wheezing
Asthma
Immunodeficiencies
Rest assured that whatever your allergy needs, our expert team of allergists in Chicago can help you find the best treatment.
How Do You Get Tested for Allergies?
There are a variety of methods for allergy testing available. Perhaps the most common form of allergy testing is a skin prick test.
Skin Prick Testing
Skin prick tests are also called puncture or scratch tests. This test is performed with a small needle that pricks the skin on the forearm or back to see an immediate reaction. The needle is coated with a small sample from common allergens.
Skin prick tests can be used to identify food allergies and allergies to pollen, dander, mold, and dust mites. If you are allergic to a substance, a small bump will form on the skin, a rash, or a different reaction.
Intradermal Skin Test
Sometimes, a small injection of an allergen into the skin is needed to identify an allergy to insect venom (like the venom from wasp or bee stings) or penicillin. Both skin prick tests and intradermal skin tests are safe for most people but may not be safe if you've already been diagnosed with a severe allergy.
They also may not be accurate if you have a pre-existing skin condition like eczema or psoriasis. In these cases, a blood test may be recommended.
Patch Test
Another kind of skin test you may undergo is called a patch test. A patch test can also be used to identify the cause of contact dermatitis or skin inflammation as a reaction to prolonged contact with an allergen.
A patch with different skin irritant-causing substances is left on the skin for 48 hours. After the patch is removed, irritated skin under the patch site can indicate an allergy.
If your Chicago ENT allergist believes you have allergies, they may recommend being tested. Which testing method they have you complete will depend on the severity of your allergy, as well as what they suspect you're allergic to.
Are There Treatments for Allergies?
Our specialists at Chicago ENT can recommend various treatments for allergies based on your specific allergies and their severity. The best treatment for most kinds of allergies is to avoid the allergen.
If your symptoms are especially severe, though, an allergic reaction could be life-threatening. This is the case if you're at risk of experiencing anaphylaxis, which can cause your airway to become blocked by swelling.
If you're at risk for anaphylaxis, you may be given a prescription for an Epinephrine Auto-Injector, more commonly known as an EpiPen. EpiPens are used in case of an emergency exposure to an allergen.
If this occurs, an EpiPen injects epinephrine, which constricts your blood vessels to reduce swelling and relaxes muscles in the lungs to improve breathing while stimulating the heart.
If you're not at risk for anaphylaxis, you may still experience allergy symptoms that over-the-counter medication won't help. That may be the case for environmental allergies like pollen or dander from pets.
In some instances, you can have allergy shots to help suppress your allergic reactions. Allergy shots are injections that contain a small number of allergens and are taken monthly for three to five years. By taking allergy shots, you can desensitize your immune system, reducing the severity of your symptoms.
Usually, allergy shots are safe, but exposing yourself to even a tiny amount of an allergen can cause an allergic reaction. However, extreme reactions are rare. Be sure to talk to your allergist about the risks involved with this kind of treatment.
Another treatment option for some allergies is medication. Medications can be effective in treating severe and allergic asthma.
At Chicago ENT, we can prescribe our patients biologic medications. Biologic medications are made with parts from living cells rather than chemicals.
They can reduce the number of white blood cells that cause inflammation. Biologic medications like Nucala and Xolair are only approved to treat asthma. They can also be effective in preventing severe allergen-induced asthma attacks.
Whatever your needs, our allergists at Chicago ENT can diagnose you or your child's allergies and recommend a holistic treatment plan. Every patient is different, and we'll work with you to find what will work best to suit your needs.
Request an appointment with one of the excellent specialists at Chicago ENT in Chicago, IL, today and get your allergies under control.