Medical Director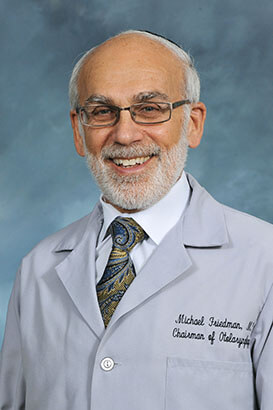 "People often ask me, 'What drives your passion?' It's really quite simple: finding new solutions to help my patients."
Michael Friedman, MD, is an Otolaryngologist–Head and Neck Surgeon and serves as Medical Director for Chicago ENT. Since 1977, Dr. Friedman has practiced as an ear, nose, and throat doctor in the Chicago area, and has earned recognition from peers and patients alike.
He started his career at the University of Illinois – Chicago Department of Otolaryngology/Head & Neck Surgery where he served as Associate Professor. In 1990. Dr. Friedman moved to Rush University Medical Center where he served as Professor of Otolaryngology-Head & Neck Surgery as well as Chairman, Section of Sleep Surgery. He left Rush in 2017 and is currently Chairman of Otolaryngology-Head & Neck Surgery at Advocate Aurora Illinois Masonic Medical Center.
Dr. Friedman is also a nationally known expert on head and neck cancer, endoscopic sinus surgery, thyroid and parathyroid surgery, and sleep disorders.
Over the past 30 years, Dr. Friedman has trained countless surgeons, fellows, residents, and medical students. He has published more than 200 scientific articles and has co-authored many book chapters and textbooks on snoring, sleep apnea, and thyroid and parathyroid surgery.
Dr. Friedman's clinical philosophy is that the solution to a patient's problem begins with their story. He believes that listening to the patient's history and symptoms is the first step to helping them and that a comprehensive assessment will lead to the most accurate treatment — one that centers around thoroughness and precision. At Chicago ENT, patients have the knowledge and experience from multiple specialists to provide opinions for the most complicated problems.
Dr. Friedman's patients come from across America as well as from the Chicagoland area. In fact, it's not unusual for patients to travel from outside the United States seeking his evaluation and leading-edge treatments.
Dr. Friedman relies on a detailed analysis of the problem, and thus, can often provide a solution without invasive surgical procedures. Dr. Friedman is also a member of 13 professional societies and is a frequent lecturer all over the world. He has been featured on ABC, CBS, FOX, WGN-TV, and in national publications and journals.
Educations & Training
Residencies: Metro-Six, University of Illinois at Chicago, Surgery; University of Illinois at Chicago, Otolaryngology-Head and Neck Surgery
Internship: Illinois Masonic Medical Center, Chicago, Medicine
Medical: University of Illinois at Chicago College of Medicine, MD
Undergraduate: Yeshiva University, New York, BA, Premedicine, Chemistry
Licensure
State of Illinois
Awards
Castle Connolly Medical Guide–America's Top Doctors
Chicago Magazine's Top Doctors
American Academy of Otolaryngology-Head, and Neck Surgery Foundation, Star Peer-Reviewer Award
Castle Connolly Medical–A Regional Guide to Physicians
American Academy of Otolaryngology-Head and Neck Surgery Honor Award
The Edmund Prince Fowler Award for Excellence in Basic Research. Presented by the American Laryngological, Rhinological, and Otological Society
Professional Organizations
American Academy of Otolaryngology-Head and Neck Surgery Sleep Disorders Committee Member
American Academy of Sleep Medicine Clinical Sleep Society
American Rhinologic Society
International Association of Phonosurgeons
American Broncho-Esophagological Association
American Sleep Disorders Association
American Laryngological, Rhinological, and Otological Society
American Society for Head and Neck Surgery
American College of Surgeons
Chicago Laryngological and Otological Society
American Academy of Otolaryngology-Head and Neck Surgery
Illinois State Medical Society
Chicago Medical Society
American Medical Association
Hospital Affiliations
Advocate Illinois Masonic Medical Center
Swedish Covenant Hospital