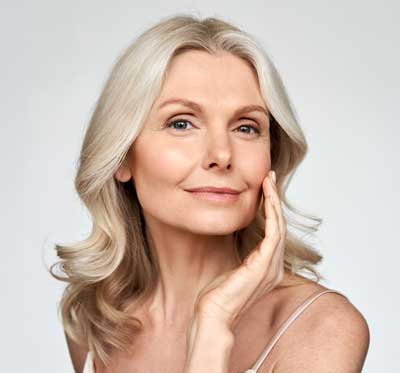 Your eyes are often the first things that people notice about you and are an important aspect of your overall appearance. Over time, the previously smooth eyelid skin stretches leading to wrinkles, and underneath, the muscle weakens which can lead to visible fat pads. In some people, the eyebrows descend with aging (a condition called brow ptosis), causing a heavy upper eyelid with skin redundancy. If severe enough, this can impair peripheral vision making it difficult to see without having to strain your forehead. Still others experience primarily fat loss throughout the aging process, which can lead to a hollowed-out look. Age, heredity and sun exposure all contribute to this process.
Whether it is loose or baggy eyelids, hooding, or a hollower-out look, an eye-lift or blepharoplasty with or without a browlift can help restore a more youthful appearance and turn back the clock. Frequently, these procedures are paired with fat transfer or filler injection to help restore volume.
Eye Lift or Blepharoplasty
Surgery to improve the appearance of the eyelids is called blepharoplasty. The goal of blepharoplasty is to give the eyes a more youthful look by removing excess skin, bulging fat, and lax muscle from the upper or lower lids. If the sagging skin obstructs peripheral vision or if you need to constantly raise your eyebrows to be able to see, blepharoplasty can eliminate the obstruction and expand the visual field.
Excess skin and fat are removed from the upper lid through an incision hidden in the natural eyelid crease. If the upper lid is droopy, the muscle that raises the lid can be tightened. The incision is then closed with fine sutures.
Blepharoplasty can also be done on the lower eyelid. Here, fat that has started to become visible can be removed or repositioned through an incision on the inner surface of the lid (transconjunctival blepharoplasty). Laser resurfacing or a chemical peel can be performed at the same time if desired, to smooth and tighten the lower lid skin.
If there is excessive skin or very loose skin in the lower lid, the incision is made just below the lashes. Fat can be removed or repositioned through this incision, and the excess skin is removed. The incision is then closed with fine sutures.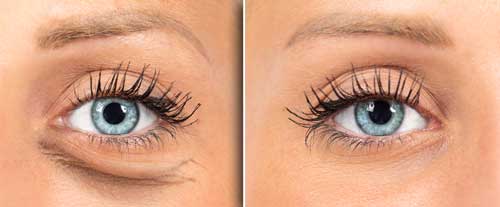 Brow Lift
Blepharoplasty will not elevate a drooping brow or remove wrinkles in the crow's feet area. A procedure to elevate the brows may be appropriate, instead of, or in addition to upper lid blepharoplasty.
Correction of mild to moderate brow ptosis can be accomplished through incisions directly above the brows, in the forehead creases, at the hairline, or even hidden inside the hairline if done endoscopically. various techniques with you and will help determine which one is suited best for you.
The endoscopic brow lift is performed through small incisions hidden behind the hairline, using an endoscope and special instruments. The muscles that pull the brow down and crease the forehead skin are relaxed, allowing the brow to be restored to its former youthful position. A corneal brow lift can achieve the same results through a larger incision well behind the hairline. Dr. Burchhardt will discuss with you which technique is suited best for you depending on your brow position, anatomy and goals.
Neck Lift and Face Lift
Aging, gravity, and environmental factors can detract from the previously youthful contours of the lower face and neck. Throughout time, our skin loosens and forms wrinkles, we progressively loose baby fat leading to hollowed out features, and our tissues descend leading to jowls, deep facial lines, loose tissue draping our jaw line and into the neck.
Neck and face Lift surgery helps re-create a defined, youthful neck and jawline by targeting the deep lines and loose tissues in our lower face, jawline and neck. By re-positioning the muscle and skin, it provides a natural look.
A necklift can correct some or all of the following:
"Bands" in the neck
Loose tissue underneath the chin that appears as a "double chin"
"Jowls" or the redundance of tissue along the jawline
Loose skin in the neck or lower face
Good Candidates for Neck Lift and Face Lift Surgery
Ideal candidates for neck and face lift surgery are in good health overall and have realistic expectations about the results that can be achieved. During your consultation, you and Dr. Burchhardt will discuss your goals to determine whether a face lift and/or neck lift is right for you. Frequently, fat transfer to restore lost volume or brow lift and eyelid lift are combined to achieve a comprehensive facial rejuvenation.
The Procedure
Neck lift surgery is performed as an outpatient procedure under general anesthesia. Dr. Burchhardt places the incision around and in the hairline and in the creases around the ear, so that the incision is well hidden and that your natural hairline is not displaced – you can still wear your hair any way you want. An incision under the chin may be used to remove excess fat from the area and to tighten the front of the neck. Dr. Burchhardt repositions the underlying tissues, which may include tightening the platysma muscle that causes banding. She then re-drapes the skin over the tightened muscle, removing any excess skin to restore the youthful contours of your jawline in a natural look that never appears stretched. Dr. Burchhardt performs both deep plane and mini-face lifts depending on the individual's goals.
Chin Implant or Chin Augmentation
The chin plays a prominent role in facial aesthetics. When the chin is unbalanced in relation to the rest of the face it can create disharmony. For example, a chin that is set back or "weak" can make the nose look disproportionately large, or it can cause poor neck contours and premature aging. A chin implant augments the chin to provide a more balanced facial contour and can improve the neck line by softening the transition from jowl to chin. Chin augmentation can be performed on its own in the office, but it is also frequently paired with rhinoplasty or a facelift.
Procedure
Dr. Burchhardt offers chin implant procedures done either in the office with numbing injections or in the operating room depending on the patient's preference. A small incision is made underneath the chin in a nonvisible area. Dr. Burchhardt uses either a silicone implant or a mesh implant that is selected for its appropriate size and inserted to sit on the chin bone. A dressing and tape will remain in place for about 5 days, after which most people go back to work.
Rhinoplasty
If you have always been bothered by your nose shape or simply wish to improve your facial harmony, rhinoplasty may be able to achieve the look you have always desired. Cosmetic nose surgery is a highly popular technique to recontour the nose, and the results can potentially enhance your entire facial appearance. Many patients pursue rhinoplasty to address long-held insecurities about their nose, but the procedure can also repair a previously broken nose and/or a deviated septum. As a fellowship trained facial plastic surgeon, Dr. Burchhardt is specially trained in nasal surgery and an expert in reshaping the nose into a more aesthetically pleasing shape. Frequently, Dr. Burchhardt pairs rhinoplasty with septal reconstruction and turbinate surgery to concomitantly help improve nasal breathing. She is also an expert in reconstructive nasal surgery and septal perforation repair.
Rhinoplasty is a facial plastic surgery procedure designed to reshape the nose to create a more favorable and proportional facial aesthetic. It is one of the most popular surgical procedures in the United States and is performed hundreds of thousands of times per year. Dr. Burchhardt's approach to rhinoplasty involves re-shaping the existing nasal tissues into an improved shape and position, while keeping these structures well supported to create a natural look that will last and supports nasal breathing.
Every person has unique reasons for considering rhinoplasty, some of which may include:
To make the nose and facial features more proportional
To reduce the size or width of a nose that appears large or wide
To correct a hump, bump, or an overly arched or "Roman" nose
To improve the angle between nose and upper lip
To reshape a nose tip that appears crooked, pointed, bulbous, or boxy
To perform secondary surgery following a previous rhinoplasty
To treat nasal birth deformities or defects
What Can Rhinoplasty Address?
During your consultation, Dr. Burchhardt will ask you about your goals and expectations for surgery. Depending on your anatomy, rhinoplasty can improve a number of issues concerning:
The nasal bridge— nose surgery can achieve more harmonious facial features by correcting bumps in the nasal bridge, straightening a crooked bridge, or making the nasal bridge thinner or wider.
The nasal tip— rhinoplasty can reshape the nasal tip to appear wider or narrower, as well as raise or lower the angle of the tip.
The nostrils— when nostrils appear overly prominent or slight in comparison to the rest of the facial features, surgical enhancement can increase or decrease the size in relation to your facial proportions for a more balanced aesthetic.
The septum— a deviated septum often causes breathing problems; however, nose surgery can effectively repair and realign the septum to help improve airflow through the nasal passages.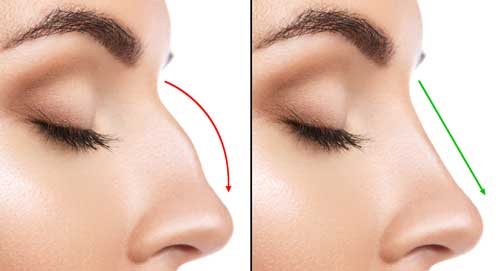 Who is a Candidate for Rhinoplasty?
Ideal candidates for rhinoplasty are typically those who are in relatively good health. During your consultation with Dr. Burchhardt, she will perform a facial analysis as well as an examination of your nasal airway. She often uses images to help explain the process based on your facial proportions and to help her gain an understanding of your treatment goals. Together, you will arrive at a plan for what aesthetic changes are achievable and most beneficial based on your facial proportions as well as your aesthetic goals.
Dr. Burchhardt is also a specialist in revision rhinoplasty for patients, who are interested in correcting a previous nose surgery that resulted in complications, breathing obstruction, or dissatisfaction over the years.
How is the Rhinoplasty Procedure Performed?
Rhinoplasty is an outpatient procedure with a recovery of about 1 week. Dr. Burchhardt will make a tiny incision between your nostrils with all other incisions inside the nose. You will have splints in your nose for about 5-7 days and a tape and cast on the outside, but no painful nasal packing is used. Bruising may occur and last for a few days to up to a week. Even though subtle swelling from rhinoplasty takes up to a year to fully resolve, most of the swelling goes down within 2-3 months and you will already notice a difference in your nasal shape as soon as the cast comes off.