Hearing Loss & Testing in Chicago, IL
Hear life again with expert treatments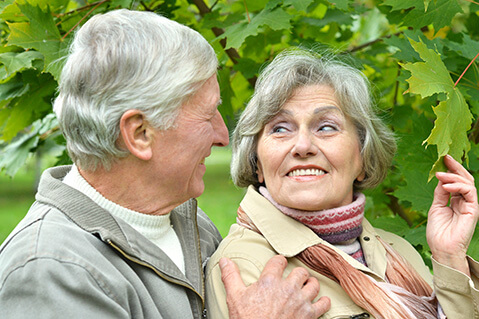 More than 48 million Americans (20% of the population) have some degree of hearing loss. In fact, one out of every three people age 65 and older have hearing loss, and almost all children will experience a temporary hearing loss due to ear infections or fluid before age 18.
That's why more adults and children turn to Chicago ENT for the most advanced surgical and medical therapies available. Our audiologists hold doctoral degrees and are highly skilled in all aspects of hearing as well as in prescribing assistive devices and therapies. They work closely with the ENT physicians to diagnose and treat mild, moderate, and severe hearing loss. Chicago ENT boasts the perfect combination of expert doctors and fully-equipped, on-site testing facilities.
We pride ourselves on our ability to educate patients about their hearing loss and provide treatment using the latest technologies and research. Our goal is to optimize our patient's hearing, allowing them to communicate with family, friends and the world around them.
Meet our audiologists:
Our Hearing Services in Chicago, IL
Comprehensive Hearing Evaluations (age 5-adult)
Distortion Product Otoacoustic Emissions Testing
Tympanometry
Hearing Aid Consultations & Fittings
Hearing Aid Servicing & Repairs
Custom Recreational & Professional Earplugs
Custom Earmolds
Assistive Listening Devices
Vestibular and Balance Evaluations
Auditory Brainstem Response Testing
Advances in hearing loss treatment:
We work with all major manufacturers of hearing aids and are up to date on the latest digital, Bluetooth and wireless technology. Hearing aids are prescription-based devices that are programmed for a patient's individual hearing loss. Personal Sound Amplification Products (PSAPs) are NOT hearing aids. They are strictly an amplification enhancer and are not approved by the FDA to treat hearing loss.
Receiver-in-the-canal (RIC)
Behind-the-ear (BTE)
In-the-canal (ITC)
In-the-ear (ITE)
Completely-in-the-canal (CIC)
Invisible-in-the-canal (IIC)
Assistive listening devices
Hearing aids are very helpful in one-on-one situations, but sometimes they are not enough. An assistive listening device (ALD) can help you function better in your day-to-day communication. ALD's are available for use with or without hearing aids. These devices can include:
Wireless Connectivity
Phone Streaming
Television Streaming
iPhone or Android Direct Streaming
Personal FM systems
Telecoil/Induction Loop Connectivity
Custom products
Harmfully loud sounds can permanently damage our hearing. Protecting your hearing when participating in loud activities, such as listening to loud concerts, hunting, motorcycling, and construction work can save your ears in the future.
Recreational Ear Plugs
Sleep Plugs
Swim Plugs
Bone Anchored Hearing Aid (Baha®)
If you struggle to hear because of chronic conditions such as draining ears, chronic ear infections, acoustic neuroma or Microtia, and Atresia, a Baha® Bone Conduction Implant System may be the solution you have been waiting for. A Baha® System might not only help you hear again; it can reconnect you to the life you love and the sounds you have been missing.
Click here to learn about patients who have struggled with hearing loss and how the Baha® has improved their lives.
Understanding treatment options for your hearing loss.
Today there is a variety of hearing solutions to treat different types of hearing loss. Depending on the type of hearing loss you have, some hearing solutions may be more effective than others. Consult with a Chicago ENT hearing specialist to recommend the best solution for you.
How the Baha® system is different from CROS hearing aids and conventional hearing aids.
The Baha® system is a discreet solution worn on the hearing-impaired ear(s), while CROS hearing aids require users to wear devices on both the normal and hearing-impaired ear.
• Studies show that the Baha® System provides better speech understanding in noise than CROS hearing aids.
• While wearing conventional bone conduction hearing aids, volume and sound quality can be limited because the skin acts as a barrier.
• Some hearing aids require users to wear an earmold, which can aggravate existing conditions, such as draining ears or create constant feedback.
Could the Baha® help you?
Ask yourself the following questions. If you answer "yes" to any of them, then the Baha® system might be right for you.
• Can you only hear from one side?
• Do you suffer from sore or irritated ears due to your hearing aids?
• Do you have trouble getting sufficient loudness when using hearing aids?
• Do you have draining ears?
• Do you battle feedback such as whistling hearing aids or distorted sound?
• Do you have malformed ears or ear canals? It's time to get back the sounds you've been missing.
What are the benefits of the Baha® System compared to leaving your hearing loss untreated?
With the Baha® System, you may be able to:
• Hear better, even in noisy situations.
• Enjoy a clean, more natural sound because bypassing the damaged part of your ear may reduce the amount of amplification needed to help you hear better.
• Hear sounds as if they are coming from both sides.
• Become more aware of your surroundings, increasing your ability to hear important sounds.
How much does a Baha® Bone Conduction Implant System cost?
Unlike hearing aids, bone conduction implants are covered by Medicare. They are also covered by many insurance plans and typically Medicaid.
The Procedure
You'll complete a hearing test to find out if you can benefit from a Baha® System. If it's determined you are a good candidate, you'll get to test the sound processor and hear the difference for yourself. That's one of the best things about a Baha® System—you can try it first before deciding to move forward.
It is an outpatient procedure and fortunately, the procedure is fairly routine, typically lasting less than an hour and is performed under general anesthesia. The risks of implant surgery are typically low, and most people are back to their normal activities within a few days.
Fitting appointment. After the recommended healing period (up to 12 weeks), you'll visit your audiologist to receive your new sound processor. They'll adjust the settings to match your needs and show you how it all works. You will then be ready to start your new hearing experience.
To learn more about our different hearing aids, call Chicago ENT at 773-296-5500.
Hearing Stories
If you have more questions on hearing and balance, click here for our FAQ.
Hearing & Balance FAQs