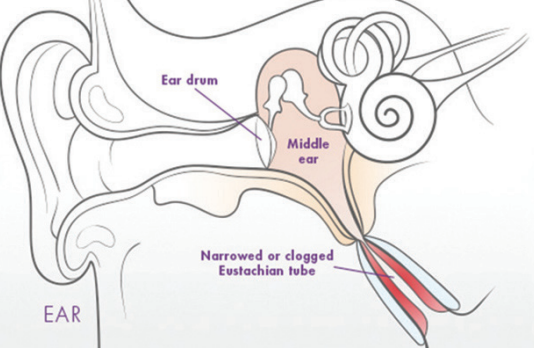 Do your ears often feel full or blocked? Do you suffer from hearing difficulties?
If these signs sound familiar, you may have Eustachian tube dysfunction. Our ENT specialists at Chicago ENT can treat this and other conditions to help you get back to living your life.
What is Eustachian Tube Dysfunction?
Eustachian tube dysfunction is a condition that occurs when the tubes that connect your middle ears to the back of your throat become blocked or clogged. 1% of the adult population suffers from Eustachian tube dysfunction. There are different kinds of Eustachian tube dysfunction, including:
Patulous Eustachian tube dysfunction
In Patulous Eustachian tube dysfunction, the eustachian tubes stay open constantly. When this occurs, it can make sound travel from your nasal cavity to your ears.
As a result, it can distort the sound of your voice.
Obstructive Eustachian tube dysfunction
If you have Obstructive Eustachian tube dysfunction, your eustachian tubes don't up as they should. Because of this, fluid accumulates, and you'll experience pressure or ear pain.
Baro-challenge-induced Eustachian tube dysfunction
In Baro-challenge-induced Eustachian tube dysfunction, the eustachian tubes do not open properly. However, their effects only occur when you experience changes in altitude, like when you're flying or diving while scuba diving.
Are there Signs or Symptoms of Eustachian Tube Dysfunction?
There are many signs and symptoms that accompany Eustachian tube dysfunction. You may experience some of the following:
Ringing in your ears, also known as tinnitus
Problems with your hearing
Hearing clicking or popping sounds in your ears
Your ears feel full
Having problems with your balance
Vertigo
Persistent dizziness
Pain in your ears that feels like an ear infection
Feeling a sensation like tickling in your ears
If you have Eustachian tube dysfunction, the symptoms may worsen when you reach higher altitudes. If you experience this, it's called barotrauma. You may experience barotrauma while flying in a plane, scuba diving, or driving in the mountains.
What Causes Eustachian Tube Dysfunction?
Several things can cause Eustachian tube dysfunction. The most common causes are allergies and infections, like the flu or the common cold.
Allergies and infections can lead to inflammation and mucus build-up, resulting in blockages in the ears. Another cause of Eustachian tube dysfunction is GERD (chronic acid reflux).
Although seemingly unrelated, stomach acid can travel back up into the throat, inflaming it. As mentioned before, you can also experience Eustachian tube dysfunction if there are altitude changes.
Treating Eustachian Tube Dysfunction
For many patients, Eustachian tube dysfunction may not require treatment. However, if you've had symptoms that have not improved in more than two weeks, you should see your ENT specialist at Chicago ENT.
They can recommend several treatments, including medications, nasal sprays, antihistamine tablets, and surgery in severe cases. One such procedure offered is the ACCLARENT AERA Eustachian Tube Balloon Dilation System.
Using the ACCLARENT AERA system helps treat patients suffering from persistent Eustachian tube dysfunction. To use AERA, you'll have a catheter used to insert a small balloon through your nose and into the Eustachian tube to help improve its function.
The balloon stays inflated for two minutes to dilate the Eustachian tube. Dilating the Eustachian tube can help relieve symptoms associated with Eustachian tube dysfunction.
After dilating the Eustachian tube, the balloon will deflate, and the catheter is removed. ACCLARENT AERA has a 99.7% success rate in reaching and opening the Eustachian tubes, with more patients regaining normal ear function than with only medication.
Learn about Eustachian tube dysfunction and how to treat it with the AERA system by scheduling an appointment at Chicago ENT at one of our five convenient locations!