Asthma Treatment in Chicago, IL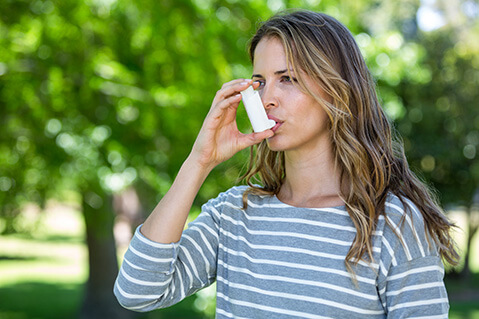 Previously undetected asthma conditions are often triggered by allergies. At Chicago ENT, we've got the experts on-site to treat whatever causes your asthma symptoms, including acute asthma prevention to chronic medical management. When you come to Chicago ENT as an asthma patient, one of our skilled asthma specialists will review your history and perform a complete medical exam. Then, we'll evaluate your particular diagnosis and review all the treatment options, from medications to inhalers.
The Truth About Asthma
Asthma can be one of the most frightening illnesses we face. Asthma is a disorder that affects the lower airway within the lungs, and it afflicts children and adults alike. When these small airways are inflamed, the size of the airway opening is reduced and the amount of air that flows in and out of the lungs is decreased—and reduces the necessary oxygen to the bloodstream. Unfortunately, chronic inflammation can also lead to permanent damage to the airways and lifelong respiratory disease. Depending on a patient's individual case, physical activity and multiple irritants can trigger the inflammation that causes asthma. Stress can also lead to an asthma attack. In some cases, the cause of asthma is unknown.
If you have more questions on Asthma, click here for our Ear, Nose & Throat FAQ.