As you age, the delicate skin on your eyelids can become saggy, droopy, or puffy. This excess skin may cause you to look tired and older than you are.
In some cases, the excess skin might make it hard to open your eyes, affecting your vision and ability to see. If you've noticed signs of aging around your eyes, eyelid surgery helps eliminate the excess skin and fat and improves the appearance of your eyelids.
Keep reading to learn more about eyelid surgery and if you may be a suitable candidate for the procedure.
What is Eyelid Surgery?
Also called blepharoplasty, eyelid surgery is a procedure performed to improve the appearance of your upper or lower eyelids. Blepharoplasty lifts the eyelid skin, reduces excess fat, and tightens up the muscle and skin of your eyelids, opening your eyes.
Typically, eyelid surgery helps address the following concerns:
Droopy, baggy eyelids
Eyelid folds from loose skin
Bags under the eyes
Fine wrinkles from excess eyelid skin
Upper eyelid excess fatty tissue that causes puffiness
What to Expect During Eyelid Surgery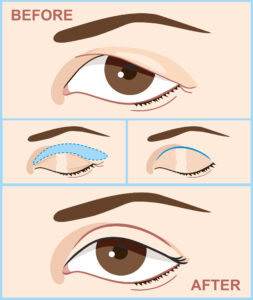 A licensed and experienced surgeon should perform eyelid surgery to ensure the best outcomes. Eyelid surgery is usually performed using local anesthesia to prevent pain and ease discomfort.
At Chicago ENT, Dr. Daniela Burchhardt performs facial plastic and reconstructive procedures, including eyelid surgeries. The type of procedure done will depend on the affected eyelids and can include the following:
Upper Eyelid Surgery
Your facial skin tends to lose its elasticity with age. Luckily, upper eyelid surgery can help.
As the name suggests, an upper blepharoplasty is performed on your upper lids. It improves the tightness and tone of the skin between the upper lashes and brows.
During the procedure, Dr. Daniela Burchhardt creates an incision in your upper eyelid where the skin creases naturally, so no scars will be visible. Next, the excess skin or fatty tissue that weighs down your eyes and makes your upper lids appear creased is removed.
In some instances, Dr. Burchhardt may reposition the muscles. The remaining skin is carefully lifted and reattached for a more refreshed, rejuvenated look.
Upper blepharoplasty can also restore the function of your eyelids by eliminating the excess skin obstructing your vision. Once completed, Dr. Burchhardt uses tiny stitches to close the incision.
These sutures fall out or dissolve over the weeks following your procedure. Upper blepharoplasty takes about an hour to complete.
It's crucial to choose a surgeon with experience for your procedure. With an experienced surgeon like Dr. Burchhardt, you can avoid looking constantly surprised, which can result from overcorrection.
Lower Eyelid Surgery
A lower blepharoplasty is done on your lower lids to fix drooping skin, wrinkles, and bags under your eyes between the top of your cheeks and lower lashes. It can also correct puffiness and darker skin under your eyes.
During a lower eyelid procedure, Dr. Burchhardt makes an incision below your lower lash line or inside the lower eyelid to minimize the visibility of scars. She'll remove the fatty tissue and loose skin that causes your lower lids to droop and look heavy.
Sometimes, she may redistribute fat to reduce the appearance of puffiness.
Finally, she'll use suture strips or dissolvable stitches to close the incisions.
Suture strips have to be removed at Chicago ENT about a week later. The procedure takes approximately two hours to complete.
Lower blepharoplasty is very complex. But with an experienced surgeon, you can significantly reduce the risk of complications affecting your eye health.
Your doctor may suggest doing the procedure alone or with upper eyelid surgery based on your needs. The end goal of lower eyelid surgery is to take the impression of years off of your face and revitalize your appearance.
Eyelid Surgery Recovery
After undergoing eyelid surgery, you'll move to the recovery room. You'll remain here until your surgeon confirms you're stable.
The first thing you'll notice immediately after you wake up from your procedure is blurry vision. There's no cause for alarm.
Any blurry vision is temporary and caused by the thick ointment applied to prevent eye infections. Apart from blurry vision, other side effects may include: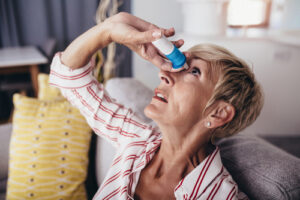 Watery eyes
Sensitivity to light
Numbness around the eyes
Bruising
Dry eyes
Swollen lids
Double vision
These should disappear after a short time and are only temporary. Plan for someone to drive you home. You may want to ask them to stay with you after your procedure for several days.
You can manage pain and discomfort with prescribed medication, cold compresses, or ointments. To prevent dry eyes, your doctor will prescribe artificial drops.
Dr. Burchhardt may ask you to keep gauze over your eyes for a few days. Also, you'll have to wear dark sunglasses to shield your eyes from irritation caused by direct sunlight.
Avoid heavy lifting, exercising, and other strenuous activities for at least a week. Take frequent naps as your eyes can feel tired quickly during recovery.
While recovery varies from patient to patient, most people recover quickly following their procedure. After fully recovering, you can enjoy bright, youthful, and functional eyes for years to come.
Ideal Candidates for Eyelid Surgery
Eyelid surgery is a safe and straightforward procedure. However, only some are ideal candidates for the procedure. You may qualify for blepharoplasty if you:
Have excess tissue around your upper eyelid, lower eyelid, or both
Have saggy eyelids that obstruct your vision
Want to look rejuvenated, rested, and younger
Have a malpositioned lower eyelid that causes dry eyes
Have no concerning eye conditions
Don't smoke or are willing to stop before undergoing eyelid surgery
Are physically healthy and have no underlying health conditions that could impair healing
Have realistic expectations about the results of the procedure
Rejuvenate Your Appearance with Eyelid Surgery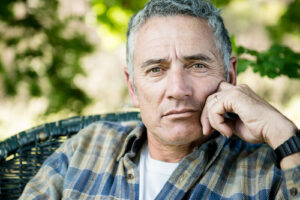 Heavy upper eyelids and bags under your eyes often lead to an aged and tired appearance. Fortunately, eyelid surgery at Chicago ENT helps create a more refreshed, youthful, and natural look.
Do you wish you looked and felt years younger? Schedule your appointment at Chicago ENT at one of our five easy-to-reach locations to determine if eyelid surgery can help make your dreams a reality.