Although there is no way to go back in time, today's facial cosmetic procedures can take years off your face. Stress, sun exposure, genetics, lifestyle, and time are some of the many factors that lead to apparent signs of aging.
When you age, your skin loses its elasticity, leading to the formation of fat deposits, wrinkles, fine lines, and folds on the face and neck.
Fortunately, expert plastic surgeons can remove excess fat and tighten loose skin.
They can also smooth out wrinkles and do much more to tackle the signs of aging using the most advanced proven cosmetic procedures. Keep reading to learn more about how to address signs of facial aging!
Facelift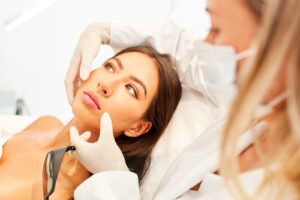 A facelift enhances the overall appearance of your face. With aging comes a loss of moisture, and elastic tissue in your skin. You'll also begin losing fat pads underneath your face, and you'll start producing less collagen, leading to older-looking skin and wrinkles.
All these effects make you appear older than you are.
A facelift can deal with sagging along the jawline and deep-set creases on your nose, chin, or mouth. It's also able to correct wrinkles on the forehead and near the eyes.
Who are Good Facelift Candidates?
You may be someone that would qualify as a good candidate for a facelift if:
You want to get rid of excess skin from the neck and face
Your face looks older, tired, or sad due to aging
You have realistic expectations about the rewards of a facelift
The only way to know if a facelift is right for you is to schedule a consultation at Chicago ENT. If you're not a good candidate, our facial plastic surgeon Dr. Burchhardt will discuss other alternatives that may be worth considering instead.
Neck Lift

Many people forget about the importance of focusing on their necks for anti-aging efforts. But it's one of the spots that can give away your age the fastest.
Some tell-tale signs are an accumulation of fat, sagging skin, and even a turkey wattle. A neck lift is a surgical procedure that removes drooping skin, tightens the connective tissue underneath your chin, and thus gives you firmer skin and a more youthful appearance.
Who is a Good Neck Lift Candidate?
If you have loose skin on your upper neck that looks out of place, you might be suitable for this cosmetic procedure. You may also be ready for a neck lift if you:
Have a poorly defined jawline
Wish to fix the appearance of your double chin
Want to eliminate neck creases and vertical bands
Blepharoplasty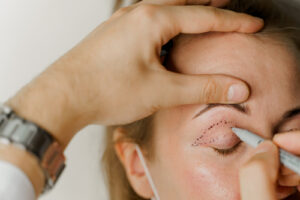 Eyelid surgery, also known as blepharoplasty, addresses droopy eyelids that make you seem older than you are. The eyelids have skin that's quite delicate.
As a result, they reveal signs of aging earlier than other parts of the face, drastically affecting your appearance. Saggy eyelids make you look angry, tired, or sad.
Blepharoplasty restores the definition of your eyelids, helping your eyes look more youthful.
Who Would Be a Good Blepharoplasty Candidate?
The best candidates for eyelid surgery are:
People looking to increase their self-confidence
If you're in good health and can handle a cosmetic procedure
Patients who have realistic goals about what blepharoplasty can accomplish
Rhinoplasty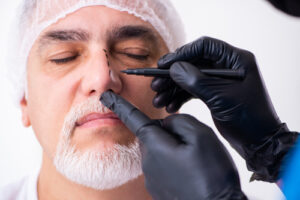 A popular cosmetic procedure, rhinoplasty improves the shape and size of your nose, which can change as you become older. Undergoing a rhinoplasty can not only make you more attractive but can also improve your breathing.
With rhinoplasty, you can finally have a nose that complements your facial features, Instead of being a distraction or focal point.
Who Qualifies For Rhinoplasty?
Suitable candidates for rhinoplasty typically meet the following criteria
Patients who are not smokers or haven't been smokers for a long time
They do not have any serious illnesses or medical conditions that could make it more difficult to heal after having rhinoplasty
They have realistic expectations about the aesthetic results
Tips to Prevent Further Facial Aging
To prevent further facial aging and make your skin look younger, Chicago ENT's Dr. Burchhardt recommends the following:
Stay Hydrated
Making sure you're always well hydrated at all times is essential for your skin's beauty and health. After all, your skin is mainly made up of water. If it doesn't get enough water and becomes dehydrated, it will become more susceptible to the signs of aging.
Drinking enough water improves your skin's elasticity, minimizing the appearance of fine lines and wrinkles while tightening the skin around your jawline.
Use Sunscreen
Excessive exposure to the sun causes premature aging to the skin, including the development of fine lines, wrinkles, and age spots. You can protect your skin from the sun by wearing sunscreen every day, anytime you're outdoors.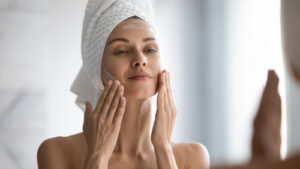 Experts recommend using sunscreen with an SPF of at least 30. If you're staying out in the sun for an extended time, remember to re-apply after every 2 hours. Also, get high-quality sunglasses that will protect you from UVA and UVB rays, as well as a wide-brimmed hat to protect your skin further.
Quit Smoking
Smoking makes your skin age faster. People who smoke often develop saggy skin around the eyes, fines lines, and wrinkles.
This is because the act of squeezing your lips and squinting from cigarette smoke results in the appearance of more facial wrinkles. Additionally, the nicotine in tobacco constricts the blood vessels in your skin, preventing essential nutrients and oxygen from reaching the skin.
Restore Your Youthful Appearance with Chicago ENT
The effects of aging force the skin to wrinkle, form deep creases, and sag. But you can reverse the signs of aging with the help of Dr. Burchhardt.
Dr. Burchhardt will attentively listen to your concerns and recommend the most effective and safest cosmetic procedures to address visible signs of aging and restore your youthful, fresh look.
Want to learn more about which cosmetic option is the perfect choice for you to feel and look your absolute best? Schedule a cosmetic consultation with Chicago ENT in Chicago, IL, today!