If your child has a blocked or runny nose, you may give them cold medicine and wait several days to see if their symptoms improve. But if the symptoms worsen or linger, it could be time to visit a pediatric ENT.
Pediatric ENTs treat various conditions affecting young patients' ears, nose, and throat. Keep reading to learn more about pediatric ENTs, how they differ from other ENT specialists, and signs that you should consider taking your child to a pediatric ENT.
What Does a Pediatric ENT Do?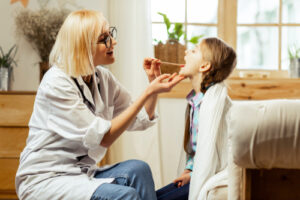 When your child isn't feeling well because of an ear, throat, or nose problem, you want to ensure you find the best quality care. That is where a pediatric ENT comes in.
Pediatric ENTs (ear, nose, and throat) or otolaryngologists are doctors who diagnose and treat all disorders and diseases of the ear, nose, and throat in children from newborns through teens. They're trained and skilled in the medical management and surgical care of ear, nose, and throat conditions.
Pediatric ENT vs. General ENT
A general ENT is a specialist that diagnoses and treats ear, nose, and throat conditions in adults. Because ear, nose, and throat structures may still be under development in young children, they usually require a different treatment approach than adults.
Moreover, many ENT conditions in children can look different than ENT conditions in adults. A pediatric ENT only delivers ENT care tailored to your child's needs.
They have the training and expertise to provide your child with the particular care they require. Additionally, babies and young children often cannot communicate what's causing them discomfort or pain.
Unlike a general ENT, pediatric ENTs are trained to understand non-verbal cues that could point to essential symptoms in a diagnosis. They examine and treat children in a way that makes them comfortable and cooperative.
You'll also find that their office environment is designed to help put kids at ease.
Signs that Your Child May Need to See a Pediatric ENT
Some of the reasons why your child may need to visit a pediatric ENT at Chicago ENT include:
Ear Infections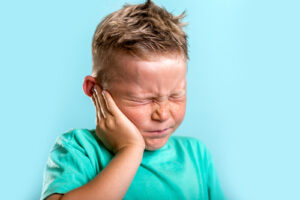 An ear infection occurs when there's inflammation, often from trapped bacteria in the middle ear. While anyone can develop an ear infection, children are more likely to get them than adults.
Ear infections usually clear up with prescribed antibiotics. However, if the ear infection doesn't resolve with antibiotics or your child suffers from ear infections 3 to 5 times a year, you should make an appointment with a pediatric ENT.
A pediatric ENT will determine the root cause of the infection and why they are recurring. With that information, they can provide your child with the most effective treatment.
Persistent Throat Infections
Children often have sore throats because their immune system is still developing. Sore throats can be caused by a bacterial infection or viruses like the flu or a cold.
Both bacterial and viral infections come and go on their own. However, if your child has repeated and persistent throat infections, you should consider seeing a pediatric ENT to find a long-lasting solution.
Sinus Infections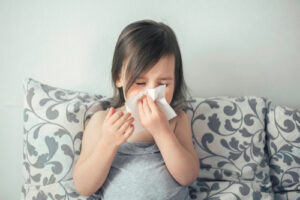 You're likely familiar with stuffy, runny noses that come with your child having a cold. But if your child has a cold lasting over 10 to 14 days and a cough that worsens at night, they may have a sinus infection.
A sinus infection is an inflammation of the sinuses and is common in children. Sinus infection or sinusitis symptoms can look like those of a cold.
However, sinus infection symptoms last longer than a cold or worsen over time. In addition to a runny or stuffy nose and a cough, other unpleasant symptoms of a sinus infection that your child could experience include:
Bad breath
Headache
Crankiness
Low or high-grade fever
Swelling around the eyes
Pressure or pain in the face
Children experience constant discomfort like adults when they have a sinus infection. If you suspect your child is suffering from a sinus infection, having a pediatric ENT take a look is a good idea.
A pediatric ENT will provide treatment that alleviates your child's aggravating symptoms and can best address the underlying cause of the sinus infection. Addressing the underlying cause will ensure they can live fully and recover quickly.
Allergies
Does your child frequently sneeze, wheeze, or cough even when there are no obvious signs of a cold? Allergies may be to blame.
When your child has an allergy, their immune system overreacts and produces antibodies that consider a specific substance harmful even though it's not.
If your child comes into contact with that substance known as an allergen, their immune system's reaction causes symptoms like:
Sneezing
Coughing
Wheezing
Itchy nose
Hives or rashes
Runny nose
A sore throat
Itchy, watery eyes
Snoring
The symptoms of allergens typically range from mild to severe and may occur year-round or seasonally. There are different types of allergens. They include:
Pollen
Dust mites
Mold
Pet dander
Certain foods
Some medications
Insect stings and bites
If your child has signs of an allergy, don't hesitate to contact a pediatric ENT. Pediatric ENTs offer a full range of allergy treatment options and can help your child find the relief they need and deserve.
Get Expert Care from the Best Pediatric ENTs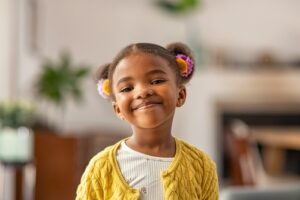 The experienced pediatric ENTs at Chicago ENT treat many ear, nose, and throat disorders and conditions. We use gentle techniques to help ensure children will cooperate and relax while we're assessing and treating them.
Does your child have an issue relating to their ear, nose, or throat? Schedule your appointment today at Chicago ENT at one of our convenient locations to ensure they receive the highest level of care!