An innovative way to treat obstructive sleep apnea
It is estimated that more than 18 million Americans have sleep apnea and 80 percent of all moderate and severe cases of Obstructive Sleep Apnea (OSA) go each year undiagnosed. Sleep apnea is a serious breathing condition that if not treated, can have serious complications to our health. Chicago ENT is proud to offer this innovative treatment option to effectively treat OSA.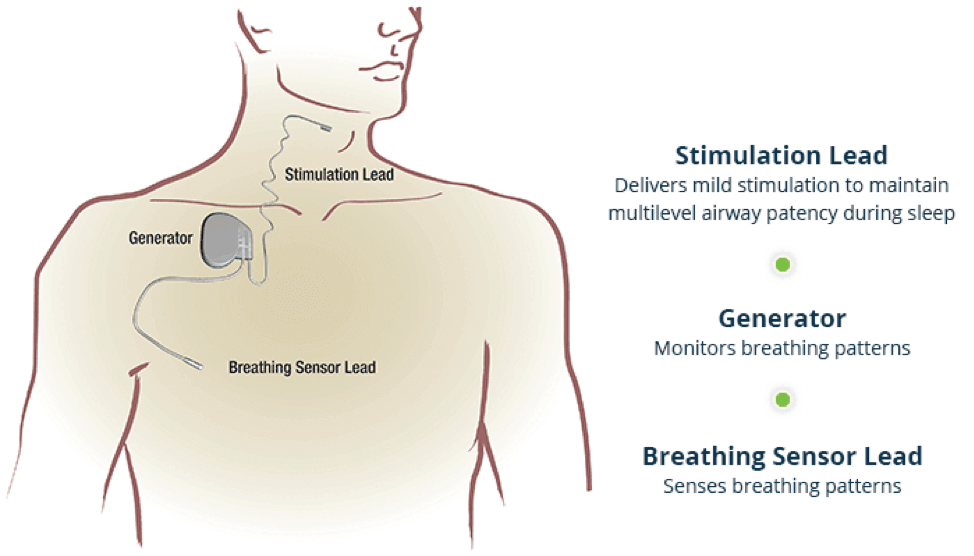 Chicago ENT is proud to introduce Inspire Therapy
Inspire Therapy is a breakthrough implantable treatment option for people with OSA who are unable to use or get consistent benefits from a Continuous Positive Airway Pressure (CPAP) machine. This revolutionary treatment option monitors the patient's breathing and delivers mild stimulation to the hypoglossal nerve which controls the movement of the tongue and other key airway muscles. By stimulating these muscles, the airway remains open during sleep.
I wake up every morning well rested and ready to face the world.

Christine W
It's almost like being back in my teenage years.

Gerry H
My quality of life has improved beyond anything I could imagine.

Donnie R
I thought tired was just a way of life.

Dan M
What is Inspire and how does this new technology work?
Inspire Therapy is a small, fully implanted device that senses breathing patterns and delivers mild and painless stimulation to maintain the airways open during sleep. The Inspire system consists of three implanted components including a small generator, breathing sensor lead, and a stimulation lead, all controlled with the small handheld Inspire sleep remote.
The remote allows you to turn Inspire Therapy on before bed and off when you wake up, increase and decrease stimulation strength, and pause during the night if needed.
Upper airway stimulation technology provides a first of its kind alternative for those suffering from obstructive sleep apnea who are unable to use or get consistent benefit from CPAP. Need to visualize this breakthrough medical option? Watch the video below.
Do I qualify for this new treatment option?
Board-certified physicians at Chicago ENT can best determine if you or your bedtime partner are ideal candidates for this new breakthrough treatment option. Below are the guidelines set by the FDA and by the Inspire team.
Have moderate to severe Obstructive Sleep Apnea (AHI of 20 to 65)
Unable to use or get consistent benefit from CPAP
Not significantly overweight
Over the age of 22
To find out if you are a great candidate or to obtain more information about the Inspire Therapy, call Chicago ENT at 773-296-5500.