Chicago ENT offers a variety of treatments for sleep apnea including CPAP and several CPAP alternatives.
CPAP
Elevoplasty
Inspire® sleep apnea therapy
Oral Appliance Therapy
The Pillar Implant
Office-Based Nasal Procedures
Radiofrequency
Behavior Modification
Surgical Options
CPAP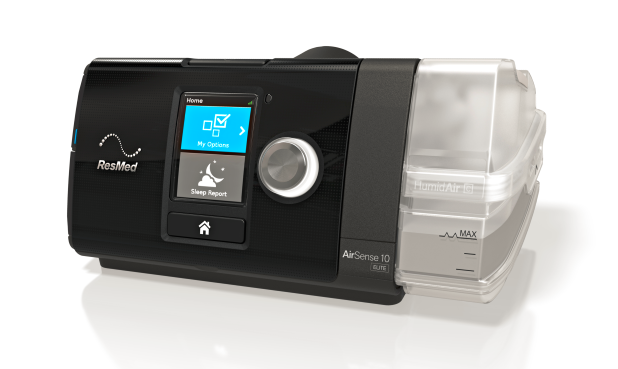 Continuous Positive Airway Pressure (CPAP) is the leading therapy for sleep apnea. Patients wear a face or nasal mask during sleep directing positive airflow into the throat and/or nasal passage to keep the airway open. Research shows that CPAP decreases daytime sleepiness, especially in those who have moderate to severe sleep apnea.
All of the CPAP units available through Chicago ENT offer lifetime wireless remote access to compliance data through ResMed Airview software. By activating remote monitoring, you can view and change therapy settings anywhere, anytime. This can reduce lengthy phone calls, unnecessary device returns, and unscheduled home visits.
Elevoplasty™ for Snoring
There's new hope on the horizon for those who need quality sleep. A new procedure, called Elevoplasty™ is a minimally-invasive, office-based procedure that works like "a facelift for the soft palate"™. It has been shown to help people who suffer from snoring.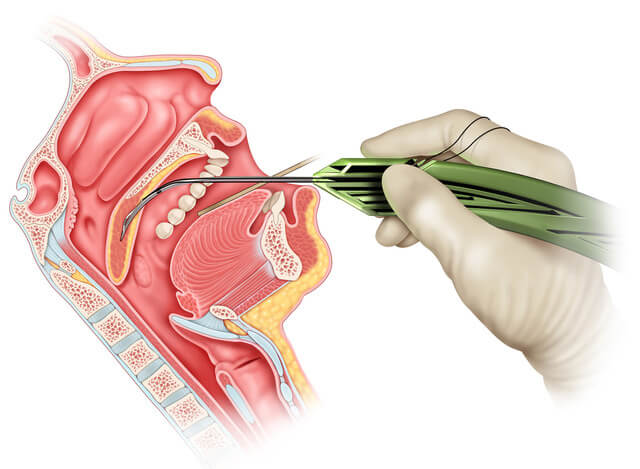 "Many patients seek relief from snoring who are not interested in wearing an oral appliance at night and who are not willing to undergo invasive palate surgery," said Dr. Michael Friedman, medical director for Chicago ENT. "This procedure helps to open the airway during sleep, thereby reducing or eliminating snoring. It requires no general anesthetic and is performed in an office setting."
Chicago ENT is one of eight academic institutions and private practices across the country that participated in the S.I.L.e.N.C.E. clinical trial that brought Elevoplasty™ to market. The investigators included leaders of sleep disorder treatments and international lecturers in the field of otolaryngology. Dr. Friedman, who served as the Study Lead investigator has published numerous peer-reviewed papers on sleep disorders and treatments.
The study collected data from 52 adults with chronic disruptive snoring. The Elevoplasty™ procedure involves placing several resorbable implants into the soft palate. It was shown to sufficiently stiffen the soft palate, significantly reducing snoring annoyance levels based on reporting by the bed/sleep partner. In addition, significant improvement in daytime sleepiness and quality of life was reported by the patient during the six-month follow-up period.
Based on the results of the study, it was determined that the Elevoplasty™ procedure is a safe tool in treating selective patients suffering snoring. These findings were presented at the American Academy of Otolaryngology-Head, and Neck Surgery Foundation, Inc. Annual Meeting and OTO EXPO; October 7-10, 2018; Atlanta, GA.
Learn More about Elevoplasty™ at www.zelegent.com.
Inspire® sleep apnea therapy
Inspire Therapy is a breakthrough implantable treatment option for people with OSA who are unable to use or get consistent benefits from a Continuous Positive Airway Pressure (CPAP) machine. This revolutionary treatment option monitors the patient's breathing and delivers mild stimulation to the hypoglossal nerve which controls the movement of the tongue and other key airway muscles. By stimulating these muscles, the airway remains open during sleep.
Inspire Therapy is a small, fully implanted device that senses breathing patterns and delivers mild and painless stimulation to maintain the airways open during sleep. The Inspire system consists of three implanted components including a small generator, breathing sensor lead, and a stimulation lead, all controlled with the small handheld Inspire sleep remote.
The remote allows you to turn to Inspire therapy on before bed and off when you wake up, increase and decrease stimulation strength, and pause during the night if needed.
Upper airway stimulation technology provides a first of its kind alternative for those suffering from obstructive sleep apnea who are unable to use or get consistent benefit from CPAP.
Oral appliance therapy
Oral appliance therapy is an effective treatment option for snoring and obstructive sleep apnea (OSA). A custom-fit oral sleep appliance can improve your sleep, restore your alertness, and revitalize your health. Worn only during sleep, an oral appliance fits like a sports mouth guard or an orthodontic retainer. It supports the jaw in a forward position to help maintain an open upper airway.
There are two important points to consider with oral appliances:
Oral Appliance Therapy (OAT) is recommended by the American Academy of Sleep Medicine (AASM) as one of the first-line treatments for patients diagnosed with mild Obstructive Sleep Apnea (OSA). The AASM also recommends oral appliances for patients with moderate to severe OSA, who are unable to tolerate or cannot wear Continuous Positive Airway Pressure (CPAP) devices.
Oral appliances are typically covered by medical insurance benefits but are not covered by dental insurance. The Sleep Center at Chicago ENT is in-network with most insurances to cover oral appliance devices and oral appliance titration.
As a convenience to our patients, we offer an on-site dentist for easy access to oral appliances.
The Pillar Procedure
The Pillar Procedure is a minimally invasive treatment option for mild to moderate palatal sleep apnea and snoring. The procedure places three tiny inserts in the patient's soft palate, causing the palate to stiffen. The stiffening helps to prevent or lessen blockages of the airway—effectively treating sleep apnea and substantially reducing the severity of snoring in most individuals. Pillar inserts are 18 mm in length and made from a woven soft polyester material that has been used for many years in implantable medical products. The Pillar Procedure is conducted in a single, short, in-office setting using local anesthetic and is completely reversible.
Office-based nasal procedures
Our office-based nasal procedures include minimally invasive techniques to improve the nasal airway, such as the Nasal Valve Procedure and Radiofrequency Turbinate Reduction (RFTR).
RFTR is a minimally invasive surgical option that can reduce tissue volume in a precise, targeted manner. This technique uses radiofrequency to create lesions within the submucosal tissue of the turbinate, reducing tissue volume with minimal impact on surrounding tissues. RFTR differs fundamentally from traditional methods by using low-power radiofrequency energy to provide a relatively quick and painless procedure for tissue coagulation.
Radiofrequency
Radiofrequency is a minimally invasive, outpatient procedure that reduces and tightens excess tissue in the upper airway responsible for obstructive sleep apnea, including the base of the tongue which is the most difficult to treat the source of the obstruction.
Over a period of three to eight weeks, the treated tissue is reabsorbed, leading to volume reduction and improved airway obstruction. The procedure itself typically takes 30 to 45 minutes, with only 2 to 4 minutes of actual energy delivery.
Behavior modification
Behavior modification techniques or Cognitive Behavioral Therapy (CBT) are aimed at changing sleep habits and scheduling factors, as well as misconceptions about sleep and insomnia, that perpetuate sleep difficulties. In fact, the recent National Institute of Health state-of-the-science meeting on insomnia concluded that CBT is a safe and effective means of managing chronic insomnia and its effects.
Cognitive-behavioral therapy for insomnia includes regular, often weekly, visits to a clinician, who will give the patient a series of sleep assessments, ask the patient to complete a sleep diary, and work with the patient in sessions to help change the way the patient sleeps.
CBT may also include Stimulus Control Instructions which are created by looking at the patient's sleep habits and pinpointing different actions that may be prohibiting sleep. Additionally, the process is tailored to Sleep Hygiene Education, a customized list of things one should and should not do in order to sleep.
Surgical options
In the event that more conservative treatments have failed, surgical techniques to alleviate airway obstruction are often straightforward and effective.