There's no getting around the fact that wearing a mask is simply a necessary part of life right now. But what do you do if you have difficulty breathing?
Here's the good news: masks don't cause adequate extra resistance to your airways to considerably obstruct airflow. Yes, this is even true for people with lung disease.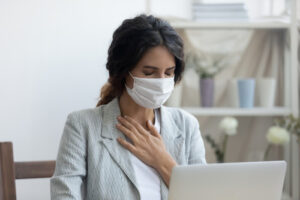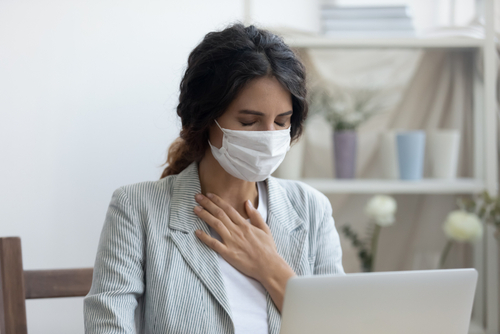 Actually, when you have an obstructive lung disease like asthma, breathing against resistance can help prevent the airways from collapsing as you exhale. Most people with sinus infections or asthma can manage to put on a face mask for short periods of time.
While wearing a mask can be uncomfortable, your sinus and asthma problems are most likely not connected to your mask. If you're having trouble breathing while wearing your mask because of your asthma, sinusitis, or other allergies, the doctors at Chicago ENT recommend talking to your specialist. You may want to consider modifying your current treatment if what you're taking isn't working.
For people with well-controlled or very mild asthma or sinusitis, donning a mask shouldn't be an issue. But this might not be the case for people with frequent symptoms, severe disease, or who need a lot of medication.
For these people, it may lead to more problems. If your allergies or asthma are bad enough that you cannot put on your mask, you may be better off staying at home. This reduces your potential exposure to COVID-19, which has been shown to have the potential to make severe conditions like asthma much worse.
The World Health Organization (WHO) and the Centers for Disease Control and Prevention (CDC) recommends you wear your mask in public whenever it's impossible to maintain a proper distance from others. The WHO further recommends putting on a breathable fabric mask.
Concerned about what kind of mask you should be wearing? Keep reading for tips on the best kind of mask to wear, especially if you have difficulty breathing!
Tips for Finding A Mask That Works for You
Here are a few tips for selecting a good mask:
Comfort Level
Wearing a mask can make you feel as though you are suffocating because the air you breathe out is at your body temperature. Your mask will also trap heat.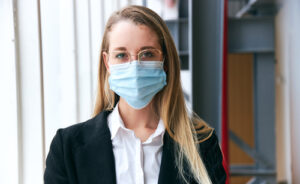 This may make you feel hotter, even if it's only temporary. If you cannot breathe easily through a mask and have it on a hot day, it's possible to overheat.
You want to get a comfortable mask that you will not be tempted to keep touching. That means getting cotton masks that are comfortable and breathable.
A mask made from woven cotton sheets or an old t-shirt can also work. But if you are still having a hard time breathing, try using surgical masks.
Avoid mask filters and synthetic fabrics such as polyester, as these could make you hotter and harder to breathe through. Pick lighter colors that reflect light instead of darker ones that actually absorb heat.
It's also a good idea to experiment with various kinds of masks. Some are a lot more comfortable than others.
The most effective cloth masks are those with two to three layers and tightly woven fabrics. But less effective cloth masks are those with a single layer. These have loosely woven fabrics or more difficult materials to breathe through like leather.
Once you have found a comfortable mask, you need to make sure you are wearing it correctly. Ideally, your mask should fit snugly yet comfortably against your face.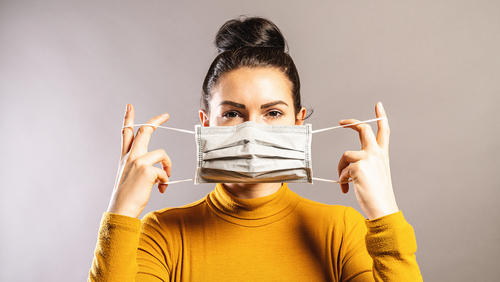 It also needs to cover both your nose and mouth. At the same time, it should not be overly tight. If it's too tight, it may make it harder to breathe, which is not recommended, especially if you already have difficulty breathing.
If possible, get a mask that allows you to adjust the straps to fit on the sides of your ears. Having a custom to you fit ensures that your mask is comfortable for the time you need to wear it.
If you find it difficult breathing through your mask due to asthma or COPD, you could try wearing the face-covering at home or even on a short walk around your block. At first, you may experience discomfort but with practice, it will become easier.
Changing Masks
Damp masks are not only uncomfortable, but they are less effective at keeping you safe from COVID too. If you find yourself sweating too often, be ready to swap your mask.
Have at least one to three extra masks with you, and make sure they are stored in a clean place even when you're on the move. You can put them in your bag or in your glove compartment.
Above all else, remember that safety is paramount. To ensure a lower risk when changing your mask, you should: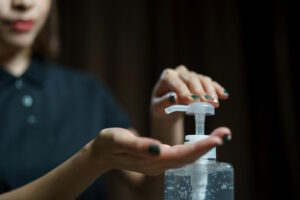 Use a hand sanitizer or wash your hands before handling your mask
Remove the mask using the elastic that goes over your ears to avoid touching the front
Put the old mask in a sealable container or bag to help prevent your old mask from contaminating nearby items or your hands
Sanitize or wash your hands again before putting on the clean mask
Using the elastic that goes over your ears, wear the clean mask, and cover your mouth and nose
Once you get home, wash the used mask before you wear it again
Don'ts of Wearing Your Mask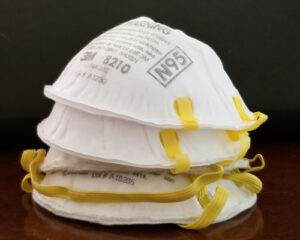 Don't use a mask that's meant for clinical use, such as N-95 masks as healthcare workers like doctors and nurses need these more. The CDC doesn't encourage wearing masks with exhalation vents or valves as they don't prevent you from spreading COVID-19 to others.
The hole in the mask can be an escape point for respiratory droplets, which can reach others.
At the end of the day, you want to remember that putting on a mask is an altruistic measure. Each person must do their part to protect one another from COVID-19.
Wearing a mask is the easiest way to say you care about the people around you. Have concerns about your quality of breathing or how you can manage your asthma? Schedule an appointment at Chicago ENT in Skokie, IL today!