Living amongst the COVID-19 pandemic has meant adjusting to a new version of normal that requires the use of face masks to decrease viral spread. With this new normal, however, has come its own set of problems.
For those with allergies, sinusitis, or asthma, breathing while wearing a mask may be a lot more difficult. Keep reading for ideas on how to make wearing a mask easier with allergies, sinusitis, or asthma!
Asthma
Wear a less restrictive mask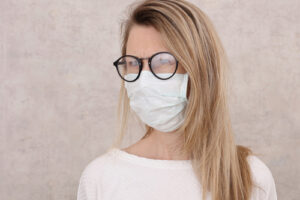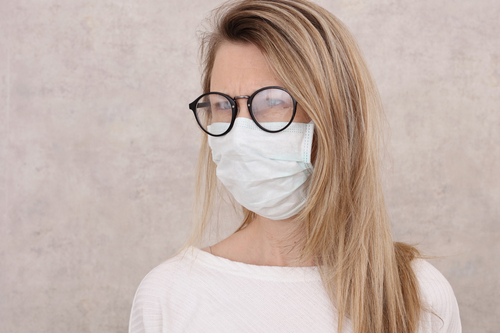 If you have asthma or similar respiratory problems, you know that you're at a higher risk of developing COVID-19. What's tricky is how to wear a mask with asthma, and how to do it safely.
The first thing to keep in mind is what kind of mask you wear. Unless you work in the healthcare field and need extra protection, it is unlikely that you need to wear a restrictive N95 mask or a full-filtering mask. These more restrictive masks can make breathing difficult for someone with asthma and even lead to an asthma attack. Now more than ever it is important to prevent asthma attacks since hospitals are overloaded treating COVID-19 patients.
Instead, you may find that the most practical and comfortable kind of mask is something less restrictive like a cloth mask or bandana. These types of masks are effective in reducing viral spread and recommended for most in the community, including those with asthma.
Don't wear your mask for longer than you have to
Although you may be more at risk, that doesn't mean you should wear a mask 24/7. Doing so may cause more harm than good.
When you're outside going for a walk and know you won't be around many people, you probably don't need to wear a mask. The same is true if you're driving in your car to the grocery store.
You should only wear a mask if you know you'll be in an enclosed space around other people where social distancing isn't possible or where your local government/health department mandates.
If you do not already bring an inhaler with you when you leave the home, consider bringing one or other necessary medications in case you have an asthma attack while out and wearing a mask.
After you come home, make sure you're cleaning your mask every time, as you don't want it to become a source of infection or collect environmental allergens, which can trigger asthma. This means you should wash and dry your mask on the highest heat setting after each use.
Continue taking any prescribed asthma medications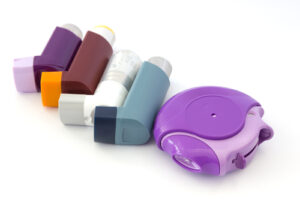 If you have asthma, do not let it go uncontrolled. Uncontrolled asthma can lead to asthma attacks and increase the risk of severe complications in those who do contract COVID-19. Follow your asthma action plan developed with your doctor to keep your lungs as healthy as possible. If you feel your breathing is becoming more difficult, let your doctor know!.
Allergies
Make sure to clean your mask often
Suffering from seasonal or perennial allergies is bad enough, but if you have allergies and wear a mask, it requires you to think smart. During allergy season, allergens are everywhere.
If you're wearing a mask, you need to make sure you have a clean mask. This is especially important if you wear a cloth mask, as the cloth material can easily attract particles like pollen or dust.
To get your cloth face mask as clean as possible, wash it with hot water in your washing machine and then tumble dry on high heat. If you have a handmade face mask, you can wash your mask by hand. Lather your mask with soap and scrub it for at least 20 seconds in warm to hot water before putting it in the dryer. Consider washing your mask daily, especially if you've been outside in nature, as allergens can accumulate on a mask quickly.
Continue taking any prescribed allergy medications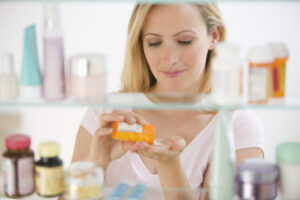 If you know that you suffer from seasonal or perennial allergies, you need to continue taking any prescribed allergy medications. Skipping your allergy medications will make them less effective.
If you take an antihistamine, try taking it before your allergy symptoms even begin. Pre-treating your allergy symptoms helps your body get used to the antihistamines and may make your symptoms less severe.
Plan your outdoor time around that day's air quality
Air quality is extremely important for those with allergies. If there is a high pollen count, this may be a better day for staying indoors. On warmer days, if possible, remember to opt for AC rather than opening windows, which can let allergens inside.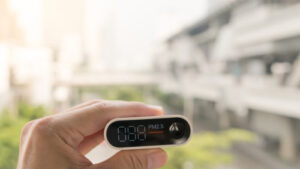 An easy way to know what the day's air quality will be is to use the pollen count toll on our website or download a weather app. If you know that it is going to be humid or a high pollen count day, it's much easier to plan your day around.
If you must go outside on a day with poor air quality, wear your mask. For other people with respiratory and breathing problems, it makes sense to avoid wearing a mask as much as possible.
But for someone with allergies, it makes sense to wear your mask whenever you're exposed to the environment. Being outside is where many people's allergens like tree pollen, grass pollen, and weed pollen are. Wearing a mask while around allergens in combination with taking allergy medication may provide the most relief for allergy sufferers.
Sinusitis
Wearing a mask to keep others safe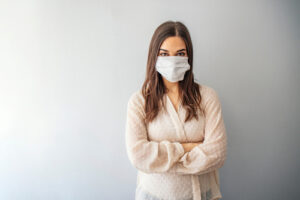 Sinusitis, or a sinus infection, can occur for lots of reasons. Some are due to bacteria, dry air, pollutants, or allergens. They most often occur after you've had a cold or the flu and the sinuses become blocked.
If you have a sinus infection and need to leave the house, wearing a mask is a very good idea. You may not know how you got the sinus infection and if you are contagious.
COVID-19 and sinusitis also share some common symptoms, so walking around with a fever, sore throat, nasal congestion, or headache may make people around you quite nervous. For this reason, wear a mask if you know or suspect you may have a sinus infection.
Make sure to wash your mask frequently, as it can act as a source of infection. If you have to go to a public place, do not stay longer than absolutely necessary.
If your sinus infection seems to be getting worse, you may need to see a doctor or consider getting tested for COVID-19.
Chicago ENT is open for telemedicine and in-person appointments!
If you are someone that has a respiratory or breathing problem, it may seem scary to think about going to see your doctor right now. Chicago ENT is pleased to announce that we are open for both telemedicine and in-person appointments!
We understand respiratory and breathing problems aren't put on pause during a pandemic. At Chicago ENT, it's important that we provide patients with the safest access to healthcare so that they can remain healthy during this trying time.
We are taking every precaution necessary to make sure our patients are safe and able to receive the care they need from our doctors. With new sanitizing measures, a reduced clinic schedule, and many more new guidelines, Chicago ENT has instituted state-of-the-art COVID-19 protections.
Have more questions about how to make wearing a mask easier if you have asthma or allergies? Request an appointment at Chicago ENT in Chicago, IL!