Sinusitis, commonly called a sinus infection, occurs when bacteria and germs build up in your sinuses and cause an infection. Sinus infections are often due to a cold, flu, allergies, or structural issues.
Given that cannabis can help treat infections and reduce inflammation, a recent study suggests that people with sinus issues could benefit from using marijuana. Keep reading to learn more about the research findings, when to see an ENT specialist for your sinus problems, and how you can potentially treat them.
Could Smoking Marijuana Lead to Fewer Sinus Issues?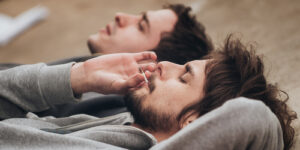 According to a new study from the Journal of the American Medical Association, smoking marijuana may help reduce the symptoms of sinus problems. The research found that people who use marijuana may experience fewer bouts of sinus pain, congestion, and sneezing than nonsmoking peers.
However, the reasons why are not so clear. The study conducted in 2013 – 2014 revealed that cigarette smokers are often plagued by such symptoms, unlike frequent marijuana users.
Experts, however, cautioned that you couldn't just fight off a runny nose by smoking marijuana. It might even be a typical case of reverse causation, mentioned researcher Dr. Kevin Hur, an ENT specialist at the University of Southern California's Keck School of Medicine.
That is, people experiencing sinus or nasal symptoms may be avoiding marijuana on purpose, Hur noted. Still, Hur and his team speculated there are possible benefits from certain therapeutic compounds in the cannabis plant called cannabinoids.
Other research has discovered that cannabinoids have anti-inflammatory effects, which may minimize swelling in the mucus membranes. Ideally, that could help ease nasal and sinus symptoms.
The only way to know for sure, Hur said, is with more research. Longer-term studies could help figure out the question, he explained.
Marijuana Users Less Likely to Report Problems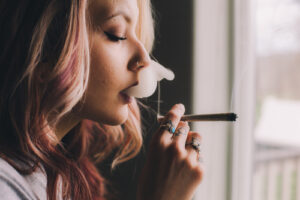 The majority in the survey – 75 percent – said they'd never used marijuana, while 9 percent frequently used it, and 16 percent only once in a while. The research of about 2,300 adults in the U.S., as published in JAMA Otolaryngology-Head & Neck, didn't ask people if they smoked cannabis or took it other ways, Hur explained.
Of frequent marijuana users, 45 percent disclosed they experienced sinus pain or sneezing, regular nasal congestion, or a dampened sense of smell in the previous year. But it was significantly higher by about 65 percent with people who'd never used the drug.
Cannabis Vs. Tobacco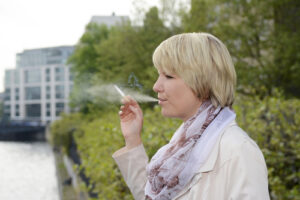 Hur's team also examined other factors. These included whether there were cigarette smokers. The team found that tobacco smokers were twice as likely as nonsmoking participants to report nasal or sinus symptoms.
Those who often used marijuana were 78 percent less likely to report those issues than those who never used marijuana. That was after factors like age, income level, education, and race were considered.
But there are a lot of variables the research couldn't assess, as per an otolaryngologist who wasn't part of the study. Exposure to triggers is vital with nasal and sinus symptoms, mentioned Dr. Alfred Iloreta of Mount Sinai's Icahn School of Medicine in New York City.
He elaborated that chronic rhinitis can have various triggers like certain chemicals, air pollution, and other irritants such as mold and dust at home and work. Many others have seasonal symptoms that flare up because of weeds, tree, or grass pollen exposure.
Cannabis users might differ from non-users in some of those exposures, Iloreta stated. The research does question whether cannabinoids have some anti-inflammatory effects, commented Dr. Iloreta. If this is proven, it could result in new cannabinoid-based medications for chronic nasal and sinus symptoms.
When to See an ENT Specialist
If you have any of the following signs that persist for more than 7 to 10 days, it's essential to see an ENT specialist. Watch out for: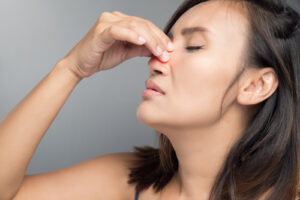 Facial pressure and pain
Regular headaches
Yellow or green nasal discharge
Fatigue
Bad breath
Cough and throat irritation
A reduced sense of smell or taste
Blocked, stuffy, or congested nose
Treatment Options for Sinus Problems
Dr. Iloreta says he wouldn't want people taking the research to mean they can cure themselves by using marijuana, adding that there are other proven treatments for sinus problems available. Talk to your ENT specialist about treatment options like medicated nasal sprays if you have recurring symptoms.
Nasal irrigation using devices such as a neti pot is also quite effective, Iloreta advises. Other treatment options for sinus problems include:
Antibiotics
Your ENT specialist may prescribe antibiotics if you have a bacterial sinus infection. Antibiotics can provide relief from the unpleasant symptoms of sinusitis.
Balloon Sinuplasty
Balloon sinuplasty is a minimally-invasive, same-day procedure. During the treatment, your ENT specialist at Chicago ENT inserts a flexible balloon catheter through your nose to the opening of the affected sinuses.
The balloon is then gradually inflated once in the proper position, permanently widening the sinus passage. Finally, your ENT specialist removes the balloon after completing the procedure.
Balloon sinuplasty is a breakthrough procedure that allows your nasal passages to drain normally, relieving sinus pressure and pain. It offers a long-term solution for people with ongoing sinus problems.
Endoscopic Sinus Surgery
If you're suffering from chronic sinus infections, endoscopic sinus surgery is also another effective treatment. During the procedure, your ENT specialist inserts an endoscope into your nose.
The endoscope is a tube with a light and camera that allows your ENT specialist to see the sinuses. Tiny surgical instruments are then used to remove nasal polyps, fix a deviated septum, or create new openings to help mucus drain more easily.
The procedure reduces the chances of blockage, alleviates bothersome sinus symptoms, and offers long-lasting results.
Don't Let Sinus Problems Take Over Your Life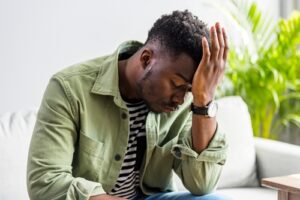 If you've experienced sinus problems, you know that the pain can be debilitating. Luckily, you don't have to live with persistent sinus problems.
The experienced team at Chicago ENT offers advanced treatment options for sinus issues that can provide the lasting relief you need and deserve.
Are you tired of living with facial pain or a stuffy nose? Schedule your appointment today at Chicago ENT at one of our five easy-to-reach locations to start your journey to long-term relief.