During the winter months, it's normal to get sick more. But with COVID-19 now part of the conversation, what does that mean?
It's difficult to know for sure, but some evidence suggests that like cold and flu season, COVID-19 increases seasonally as well. Keep reading to learn if symptoms of COVID-19 are worse in the winter.
COVID-19 and Cold and Flu Season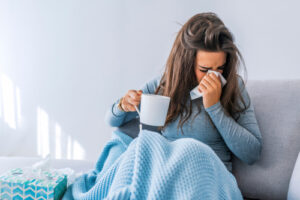 Beyond the concern of the new COVID variants, Omicron and Delta, winter is flu and cold season. You can get COVID and the flu simultaneously, as demonstrated recently in Israel.
It's never been more necessary to know the risks and how to protect yourself this winter. As temperatures dip, people's behaviors when it's cold outside can encourage the spread of COVID-19 and the flu.
The issue during winter, most people prefer spending their time indoors. When you're spending more time inside, you're breathing the same air for extended periods and having more prolonged contact.
That's a problem considering COVID-19 thrives in crowded spaces. The virus is also transmitted more easily in an enclosed environment than outdoors.
Even though opening the doors and windows helps with ventilation, it might not be possible when it's freezing. Indoor heating that's vital during the cold winter season can dry out your nostrils, increasing your risk of catching viruses like COVID-19.
Combine that with less time spent outdoors and shorter days. Because it gets dark quicker, you're also getting less vitamin D, which helps fight off illness.
Together, these things create a perfect storm of the possibility for more severe COVID-19 spread and symptoms. Particular groups of people are especially vulnerable to cold weather winter illnesses like the flu and are at a greater risk of severe illness from COVID-19, including:
Those with pre-existing chronic medical conditions like diabetes, respiratory illnesses, and cardiovascular problems
Adults over 65 years old
Children under five years of age
Pregnant women
Individuals with mental health conditions
People without homes who live on the street
Seniors who are frail and socially isolated
Individuals residing in deprived situations
It's vital that those most susceptible take their medication as prescribed, get vaccinated without delay, and receive adequate support.
Symptoms of COVID-19, Colds, and the Flu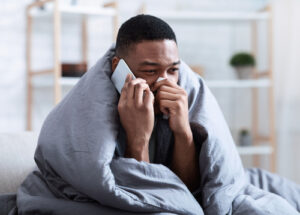 Omicron has now overtaken Delta to become the dominant strain in the United States. The variant is two to three times more likely to spread than Delta and previous variants.
COVID-19, the flu, and the common cold spread when you touch your face with infected hands or inhale respiratory drops, allowing the virus to enter your body. How can you tell if you have COVID-19, the flu, or just a cold if the symptoms all seem so similar?
The CDC says you should still be on the lookout for the typical COVID symptoms. They are:
Loss of taste or smell
A new, continuous cough
Fever
Shortness of breath
However, for some, having COVID-19 might feel more like a nasty cold with symptoms like having a runny nose, headache, sneezing, fatigue, and sore throat. Some of the signs that the flu shares with COVID-19 are chills, fever, and cough.
Also, COVID-19 is contagious for longer compared to people with flu infections, and symptoms take longer to show. In those who have not gotten vaccinated, symptoms of COVID-19 are different.
These common symptoms include shortness of breath, fever, cough, and chills. If you're vaccinated, you may have less severe symptoms like a runny nose, sore throat, fatigue, and congestion.
These symptoms are similar to what you may experience with a common cold or the flu.
How to Protect Yourself and Others
Some of the things you can do to mitigate your risk and stay safe include:
Wear a Mask
Masks are essential in preventing the spread of COVID-19. They block escaping virus particles from reaching you.
Make sure your mask fits properly, covering your mouth and nose with no gaps at the side. The CDC recommends N95 and K95 masks to provide the best possible protection, especially against the highly contagious Omicron variant.
Maintain Social Distancing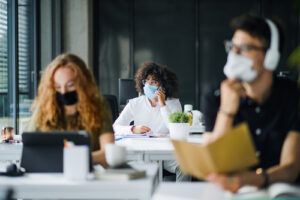 Whether it's cold or a nicer winter day, ensure you still maintain social distancing. If you can't avoid crowded indoor or public spaces, wear your mask and remain as far apart from others as possible.
Keep Tabs on COVID-19 Reports
Stay updated on the number of positive cases. If the numbers in your area keep rising, take extra measures to remain safe.
Get Vaccinated
Vaccination slows the spread of COVID-19 and the flu. According to the CDC, it's safe to get both vaccines at the same time.
Self-Isolate
A person can spread all three viruses without knowing due to mild symptoms or if they are asymptomatic. It's important to note that some people never even develop any symptoms despite being infected.
If you're experiencing COVID-19 symptoms, it's best to stay away from other people until you recover. Whenever you sneeze or cough, use a tissue and discard it immediately.
Also, wash your hands thoroughly and right away. If you don't have a tissue, cough or sneeze into your elbow. Make sure you wash your hands right away.
Stay Home if You Feel Sick
Because the common cold, the flu, and the Omicron variant of COVID-19 share similar symptoms, it's best to stay home if you feel sick. Staying home until you feel recovered is the best way to ensure that you're not spreading COVID-19 or other illnesses.
Get Boosted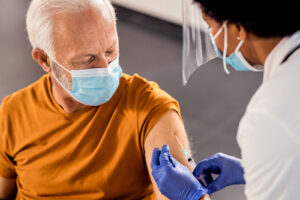 Booster shots offer an added layer of protection against COVID-19. The CDC recommends getting boosted if you're eligible to avoid severe illness.
Frequently Wash Your Hands
Washing your hands with water and soap for at least 20 seconds or using hand sanitizers works to curb the spread of COVID-19. Remember not to touch your face with unwashed hands.
Disinfect Surfaces
Clean and disinfect regularly touched surfaces like doorknobs and handrails to prevent infecting yourself with any viruses on unclean surfaces.
Do You Have COVID-19 or Flu Symptoms?
COVID, the flu, and colds may present similar symptoms. What should you do if you suddenly develop a scratchy throat and can't tell if it's COVID-19, a cold, or the flu? Stay home and find a way to get tested.
Learn more about COVID-19 and how to stay safe this season by scheduling an appointment at Chicago ENT in Chicago, IL!