Are you experiencing pressure around your nose, forehead, and eyes? Does your face feel like it's overly full?
These are some of the more common signs of having a sinus infection. Your sinuses are tiny, empty spaces that connect the inside of your nose.
They're found behind your forehead and cheekbones. When you have a sinus infection, the lining of your sinuses swells up. The swelling of the lining of your sinuses prevents mucus from draining down your throat and nose properly. Factors that increase your risk of developing a sinus infection are:
Allergies
A previous cold
Weak immune system
Smoking
Other telltale signs of a sinus infection include:
1. Nasal Congestion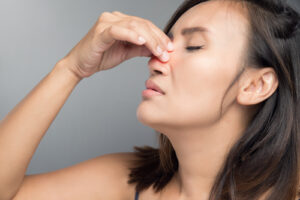 Your nasal passages can become narrowed when they're swollen or inflamed due to a sinus infection, making it harder to breathe. As a result, you may find it difficult to sleep comfortably at night.
2. Thick, Colored Nasal Discharge
Another symptom of a sinus infection is thick nasal discharge. The discharge may be yellowish, greenish, or cloudy-looking with some traces of blood.
3. Fatigue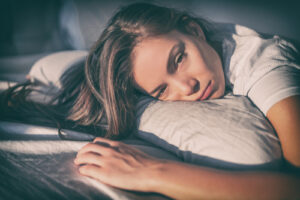 As your body works hard to fight off the sinus infection, you'll feel more tired than usual. Fatigue can be also be caused by head pain, a lack of adequate sleep, and difficulty breathing due to sinusitis.
4. Head Pain
Pain is a common sign of a sinus infection. Often, you'll experience pain, pressure, or a throbbing sensation on your forehead, in your neck, between your eyes, in your teeth, and upper jaw if you have a sinus infection.
5. Having Symptoms that Persist for Over Two Weeks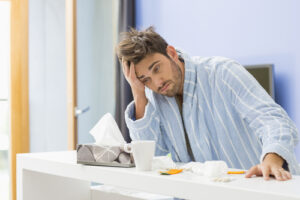 If you've had a cold for more than two weeks, it may not be a cold. Instead, you may have a sinus infection.
A common cold usually lasts between 7 to 14 days, while acute sinusitis takes a month to disappear. Chronic sinusitis can last for 4 to 12 weeks and may even continue for years.
6. Postnasal Drip
Postnasal drip is a nasal discharge that drains down the back of your throat rather than through the nose. When you have a postnasal drip, it gives you a ticklish or itchy feeling that makes you clear your throat and cough often.
Additionally, you may develop a sore throat, and your voice can become scratchy or hoarse due to your throat feeling more inflamed and irritated.
7. Bad Breath
An infected sinus releases mucus that has a foul odor. The mucus drains to the back of your throat, resulting in bad breath.
Also, when you have a sinus infection, there may be bacteria trapped in the nasal cavities, which produces an unpleasant smell.
8. Loss of Taste and Smell
Congested sinuses make it challenging to breathe through your nose, decreasing your sense of smell. Your sense of smell, in turn, affects your ability to taste.
Although you may still be able to tell sweet and salty apart, the taste of food will be bland if you have a sinus infection.
9. Fever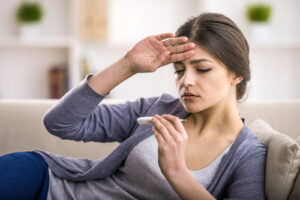 A low-grade fever could be an indication of a sinus infection. Your body reacts to bacterial or viral infections by raising its temperature to try and kill them off. If you're fighting off an infection, your fever may be accompanied by fatigue.
10. Dizziness
If you're extraordinarily congested or feel stuffed up, it can feel like mucus that's blocking your nasal passages adds weight to your face. The extra heaviness might throw you off balance as you lean your head forward or move around.
Treatment Options
For most people, treating a sinus infection means resting, taking lots of fluids, and staying home. But if you tend to get sinus infections frequently, you may need a more intense form of treatment. These could include any of the following, depending on how severe your symptoms are and if other treatments have not worked before. At Chicago ENT, we offer our patients these options:
Medical Therapy
Your ENT specialist can recommend treatment to help relieve sinus infection symptoms, including nasal sprays and antibiotics. Nasal sprays are applied to your nose a few times every day to rinse the nasal passages and treat inflammation.
Antibiotics are prescribed for acute bacterial sinus infections that worsen after the first week or last more than ten days. If you have chronic sinusitis caused by bacteria, you can also be given antibiotics.
Endoscopic Sinus Surgery (ESS)
Endoscopic Sinus Surgery (ESS) is mainly used in patients with sinus infections, nasal polyps, and nasal tumors. The procedure doesn't require external incisions.
It's usually done with the aid of a high-definition camera placed inside your nostrils. Under general anesthesia and the guidance of the camera, your surgeon will open your sinuses and clear the drainage pathways. Depending on the problems you're experiencing, they may correct structural issues and remove polyps.
Traditional Instrumentation
During traditional sinus surgery, your surgeon creates an opening in the sinus. The opening is made in either the skin on your face or inside your mouth.
Your ENT surgeon removes any tissue preventing drainage and blocking the sinus through the incision. If it's an extensive procedure, your surgeon will leave a temporary opening to drain the infection.
Balloon Sinuplasty™

The technology used in a Balloon Sinuplasty utilizes a small, flexible balloon catheter inserted through the nostrils. It gently widens and restructures the walls of the passageways. Widening and restructuring the passageway walls help restore normal sinus function and drainage.
SINUVA™
Small polyps might not have any symptoms. But as they grow bigger, they can cause breathing issues, block the sinus from draining, and trigger a sinus infection.
Without treatment, polyps will continue to grow. SINUVA™ helps shrink repeat nasal polyps by delivering an anti-inflammatory steroid to the polyps' site.
By doing this, you'll improve your sense of smell while also reducing sinus and nasal obstructions. SINUVA is left in place and removed after about 90 days.
Best in Class Treatment for Sinus Infections
If you're experiencing the symptoms of a sinus infection, the experienced ENT specialists at Chicago ENT can correctly diagnose your symptoms and help you breathe better.
Our team will work together to customize the ideal treatment plan for your needs. Schedule an appointment at Chicago ENT in Chicago, IL, and get the relief from chronic sinus infections you need!