Due to the ongoing pandemic, it's essential to wear a mask and keep a distance of six feet to protect yourself and others. Yet, these measures that mitigate the spread of COVID-19 also affect communication.
It's now commonplace to be told and say, "I can't understand you." Or "what did you say?" The reality is, masks hurt both verbal and nonverbal communication.
But the following tips can make it a lot easier to understand what someone else is saying while wearing a mask. Keep reading for 8 ways to make wearing a mask easier if you're hard of hearing.
1. Take Advantage of Speech to Text Applications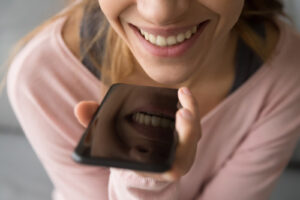 Speech to text applications uses your tablet's or smartphone's microphone to pick up your conversation and translate it to text in real-time. Your text is then conveniently displayed on your screen.
Speech-to-text applications are quite helpful in locations that have less background noise. Some applications work up to a distance of 2 meters.
That means that there's no need to hand over your phone to the other party, reducing the risk of spreading the virus. Thanks to advances in technology, the accuracy of these applications is pretty impressive.
When choosing a speech-to-text application, some features to look for include the languages the application can caption and adjustable font size capabilities. Also, find out if you're able to type your response or question on the application and if the application can read both aloud for the listener.
2. Talk Face to Face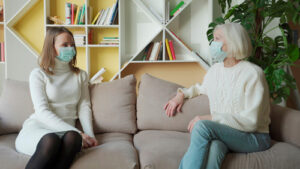 Being understood or understanding others from behind a mask can be challenging. The good news is, there are ways you can adapt your communication skills.
One way to do so is by speaking while facing the other party directly, rather than speaking to the side of them. Additionally, ensure nothing is blocking you and the person you're interacting with.
That way, there'll be fewer disruptions between you as you're conversing. Looking at someone while chatting makes it a lot easier to hear what they're saying.
3. Consider Wearing Clear or Transparent Masks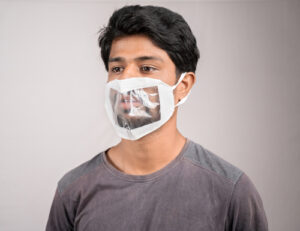 If you're hard of hearing, another option to consider is a clear mask. Clear or transparent masks allow others to read your lips, as well as see necessary facial expressions.
You'll need to keep in mind that the material that these kinds of masks are made from may make your speech sound muffled. Transparent face coverings are not made from cloth. Instead, it's usually plastic or similar materials.
Because of this, do your best to speak more clearly and concisely to ensure that the people you're communicating with can understand you. Another thing you need to be aware of is that these masks may get fogged as you're speaking. To minimize or prevent fogging, apply an anti-fogging liquid to your mask.
4. Use Gestures and Body Language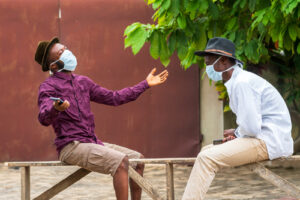 Masks have interrupted and changed the way that people communicate. But that doesn't have to be a bad thing. You can make full use of your body language and gestures to improve your interactions. For example, giving a thumbs up and nodding are great cues for showing agreement.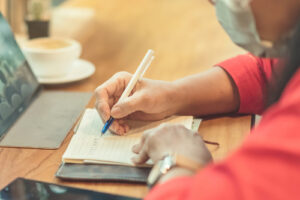 5. Take Advantage of Text or Pen and Paper
Today, smartphones have an application that allows you to take notes. Alternatively, you can go the old-fashioned way and carry a pen and paper to write down whatever you want to say.
Communicating via text comes in handy, particularly in stressful situations like in a hospital. At the end of the day, if it's a critical message, it's best to write it down so that you're perfectly understood.
6. Use Your Eyes More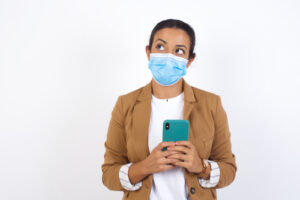 Masks have made it impossible to entirely depend on using your mouth to conclude what someone is trying to say in a conversation. In addition, it's more challenging to hear a person's voice when they're wearing a mask.
But even though you're losing some details by not seeing someone's whole face, the eyes are undoubtedly the windows to the soul. With the help of your eyes, you can give the listener some necessary cues.
For instance, if you're smiling behind your mask, you can exaggerate with your eyes a bit, and they'll fold more, signaling that you're smiling, even if the person you're talking to can't physically see it.
7. Make Sure You're Well Understood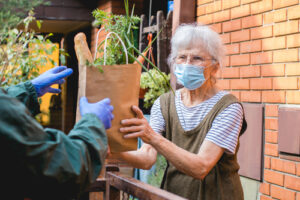 No matter how slowly you talk or how many gestures you use, you may fail in getting your message across the way you intend it. Some of the signs that can let you know the listener isn't following the conversation are unexpected answers with nothing to do with what you're communicating.
For example, if you ask, "What time do you open," and they respond, "Thank you." Instead of repeating the same thing, break down what you want to say into smaller sentences.
Also, follow up with the other person to make sure your point has gotten across. If not, clarify and be specific about the parts they haven't grasped. It may take a little bit longer, but it will ensure that you've communicated everything that you need to.
8. Avoid Shouting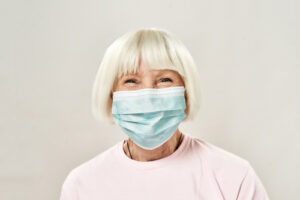 If you want to say, "Can I help you?" but yell instead, your eyes and even your body will give mixed signals. If someone relies on what they hear and see, they'll interpret it as an angry reaction.
Rather than raising your voice, which will only end up distorting your speech, be more audible. Remember to space out your words intentionally to make your conversation easier to follow. Speak with intention, and know what you want to say before saying it to be as coherent as possible.
Get Your Hearing Checked Today
Does it seem like it's much more challenging to hear than it used to be? Struggling to hear or communicate with the people around you is a sign that you should schedule a hearing test.
It can be hard to tell if you have hearing loss, which is why a hearing test or exam is the best way to go. Early detection and treatment of hearing loss can slow or stop the progression of hearing loss.
On top of that, it can help you have a better quality of life. Ready to hear the world around you again? Schedule an appointment with one of the audiologists at Chicago ENT now!