Before COVID-19, many parents anticipated that their children would develop colds during the colder months. Typical symptoms include coughs, low-grade fever, stuffy noses, and sore throats.
But amid the pandemic, the same symptoms could be a sign of COVID-19. So, how do you tell whether your child has a cold or COVID-19?
What do you do if your kid is warm to the touch, catches a cold, or has a runny nose? While there's still a lot of research required to completely understand how COVID-19 impacts children, present medical studies and reports reveal that kids have been mostly spared from the far-reaching complications of coronavirus.
That said, there have also been increasing incidences of severe and life-threatening illnesses like the new pediatric inflammatory multisystem syndrome that occurs after developing COVID-19. For this reason, there is a great need to understand both symptoms.
Keep reading to find out if the symptoms your child is exhibiting could be due to COVID-19 or if it's just the sniffles from a cold!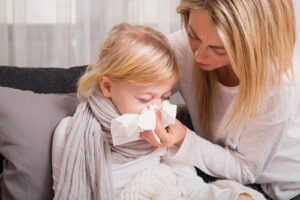 Cold Symptoms
The signs of a common cold usually develop gradually and often last for about seven days. Cold symptoms in children are generally mild and include:
Sneezing
Coughing
Headache
Muscle aches
Stuffy or runny nose
Watery eyes
Low-grade fever
Unusual fatigue
Sore throat
Rarely will a cold need emergency care. However, it's vital to see a pediatrician promptly if your child's symptoms last for over ten days or they don't improve after taking cold medications.
COVID-19 Symptoms
Novel coronavirus symptoms in children can range from mild to severe. They include: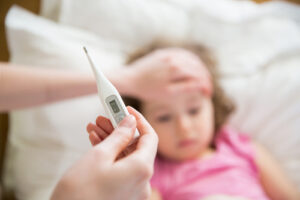 An uncontrolled cough that's different from their usual one
Sore throat
Body or muscle aches
Headache
Nasal congestion
Unusual tiredness
Shortness of breath
Runny nose
Chills and a fever of over 100.4°F
Loss of smell or taste
Poor appetite
Stomachache
Nausea
Vomiting
When to Call 911
It's critical to seek medical help immediately if your child:
Has difficulty waking up
Becomes confused
Has bluish skin or lips
Experiences constant chest pressure or pain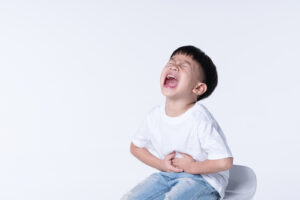 Since the signs of COVID-19 heavily overlap with common cold symptoms, it's essential to pay attention to any unusual symptoms that your child may exhibit. For instance, diarrhea accompanied by a cough or loss of smell or taste without a blocked nose isn't typical of the common cold.
But, if your child typically has a cold around this season, it could be the culprit of what's making them sick. Remember to be on the lookout for any symptoms of multisystem inflammatory syndrome and get medical attention as soon as possible. This potentially life-threatening condition is a complication of COVID-19 in children, and its signs include:
Red, cracked lips
High-grade fever
Bloodshot eyes
Rash
Pain in the abdomen
How Can You Tell If It's COVID-19 or A Cold?
Everyone is now on high alert for COVID-19. But, you cannot say for sure whether your child has the novel coronavirus or a cold unless they have a COVID-19 test to prove it. In addition, many infected kids will not have any symptoms.
The CDC has found that children are more commonly asymptomatic or they exhibit mild symptoms when they are infected with COVID-19 and are contagious. Not every child will receive a COVID-19 test unless they display the symptoms of the disease.
To complicate issues further, asymptomatic children can spread the virus. Ultimately, you know your child best, so if they have a runny nose due to seasonal allergies, then it's most likely nothing more concerning than that. Another potential cause is allergic rhinitis where children can experience runny nose, sniffles and itchy watery eyes.
And, an isolated mild runny nose is likely not COVID-19. Nonetheless, if you're worried about a symptom your child has started exhibiting, it's advisable to talk to your child's pediatrician.
When Should You Get Your Child Tested?
Your pediatrician will help decide if your child should be tested depending on their:
Likelihood of exposure
Symptoms
Infection rates
Availability of tests in your location
School requirements
Additionally, the CDC encourages that children attending school in person should receive COVID-19 tests if they have: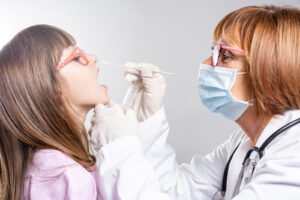 Symptoms of coronavirus
Loss of taste and smell in older children
No symptoms, but they've come into close contact with a person with a probable or a confirmed case of the infection
A true negative test means your child doesn't have COVID-19, although they may still have a cold. To treat the cold, you can: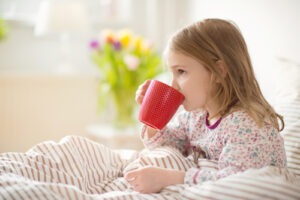 Use saline nose drops
Give your child a dash of lemon and a spoonful of honey mixed in warm water I children over 12 months old
Ensure they drink plenty of fluids and get enough rest
On the other hand, if your child does test positive for COVID-19, contact tracers can inform others who might have had earlier exposure to the virus sooner.
While your child has symptoms, keep them at home from other activities. This is essential to avoid the risk of spreading the disease.
It also gives their body ample time to rest, allowing the immune system to work and fight off the infection. Maintaining good hygiene in the house is equally important.
Frequently disinfect and clean high-touch surfaces such as faucets, doorknobs, handles, and light switches to minimize the spread of the virus. If your child has COVID-19, avoid spreading the virus to other members of your family by following CDC protocols.
The CDC recommends putting quarantine measures in place in your home. Keep your child away from other members of your family as much as possible while they are still exhibiting symptoms of COVID-19 and until they receive a negative COVID-19 test.
Protect Your Child During Cold Season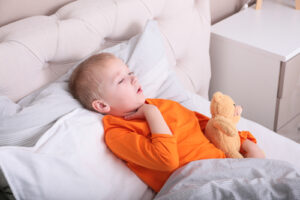 The doctors here at Chicago ENT recommend that you make an appointment with us if you're concerned about your child's symptoms during cold season. Our board-certified pediatric otolaryngologist, Dr. Colman, will advise you if a COVID-19 test is necessary.
But if your child is experiencing symptoms that include ear, nose, and throat conditions, like breathing and airway issues, as well as sinus and nose problems, our pediatric otolaryngologist will provide world-class care and treatment after a proper diagnosis to ensure optimal health and development of your child.
Schedule an appointment with Dr. Colman at Chicago ENT in Lincoln Park, Chicago, today to discuss the right course of action for your child!